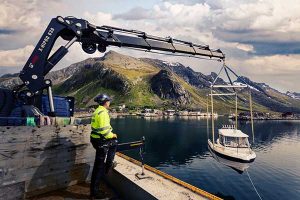 The X Hi-Pro 638: The Longest Reach On Three Axles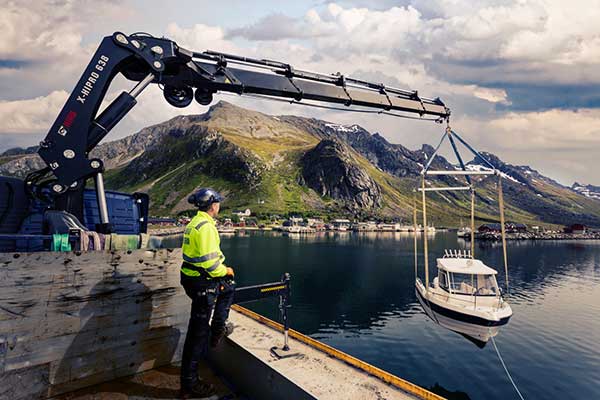 Designed to be fast, smooth and safe, this big crane has one big, long, powerful reach and features enhanced new features for better performance, durability and ease of use. The HIAB X HiPro 638 puts all of that, and more, at your fingertips with simple a remote control crane designed with the operator in mind.
Unprecedented Reach In Any Direction
This extra capacity heavyweight crane is ideal for lifting heavy, bulky loads where you need to lift and deliver a long way away while maintaining both stability and precision. The HIAB X HiPro 638 is more than just big with a heavy capacity. It's also the one of strongest and toughest cranes around, and perfect for situations with an unprecedented reach – no matter which direction you're working in.
Flexibility For The Most Difficult Challenges
The HIAB X HiPro 638 has a 57 tonne capacity. That's big. And, with the addition of a jib that reaches out an unequalled 33.7 metres and a vertical reach of 36.5 metres, you've got the power to go just about anywhere. It's flexible too. With the added jib and manual extension, you can manoeuvre out and up at the same time. Each arm can be directed to a different angle and position to accommodate the most difficult job challenge.
Enhanced Features Increase Performance, Durability And Ease Of Use
Like the rest of HIAB's new 'Big Five', the HIAB X HiPro 638 has all kinds of enhanced features to increase performance and durability and make it easier for the operator control. It's more precise, and faster than ever before, thanks to a new control valve that delivers higher oil flows. Add a variable pump to deliver the perfect oil flow for the needs of the operator and keep oil temperatures low. And with the HiPro control system, you've got incredible efficiency, optimal fuel consumption and fuel savings that can add up to thousands of litres each year. Good for you and good for the environment.
Other unique features include a chain-driven stabilizer span, hydraulic easy-tilt stabilizer legs, optional VSL+ that automatically regulates lift capacity in relation to stability, and the new Load Stability System (LSS), that makes lifting smooth and stable. Plus an integrated sub-frame, base-mounted oil tank and fully integrated, hydraulic easy-tilt legs make for faster installation.
With 70 Years Of Experience Behind It, Sales Are Bound To Reach Great Heights
Like the rest of the new HIAB high capacity loading cranes, it's designed to be powerful, fast and easy to set up, safe and simple to operate and cost effective. And after a reputation for quality that spans 70 years, it will be no surprise so see sales of HIAB's X HiPro 638 model reach great heights.
Of course, you can't stay at the top of your game without incredible service. The HIAB X HiPro 638 is fully supported by an outstanding Canada-wide service network.