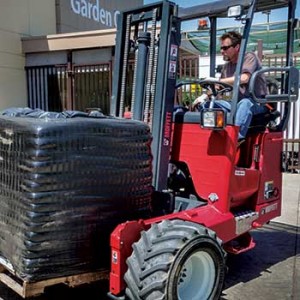 Every day, there are more than 55,000 Moffett forklifts at work around the world
And that's no coincidence. In just over 30 years, Moffett has grown from a start up business in Dundalk, Ireland, to be the global leader in materials handling equipment. They are pioneers in innovation, and their products have revolutionized logistics and distribution around the world.
Moffett forklifts mount on the back of a truck, so they don't take up precious load space. So they'll be at your work site when you are, ready to go in under a minute, loading and unloading using only a single operator.
And the new Moffett E-Series is a game changer. Emission-free, the first lithium-ion-powered 'forklift of the future' has silent operation and zero impact on the environment.
Moffett was built on a very simple philosophy: to understand the challenges faced by dozens of industry sectors from construction to recycling to agriculture, and to deliver value-added solutions that exceed expectations.
Moffett is constantly investing in equipment, process and people. They have built their reputation not only on reliability and performance, but also on the careful selection of their distributors and the long-standing relationships built with them. Here at Atlas Polar, we're proud to be the exclusive distributor of Moffett forklifts, HIAB cranes and Multilift Hooklifts in Canada.
Together we're able to offer continuous and sustainable performance, the highest quality standards and a national and international service network second-to-none.
That has inspired the trust that has made Moffett a global leader, and Atlas Polar #1
in Canada in truck-mounted forklifts.
Learn more about Moffett and meet some of the 55,000 people who put their Moffett forklift to work each day. You could be one too.
Learn more about our full range of Moffett forklifts.