About Us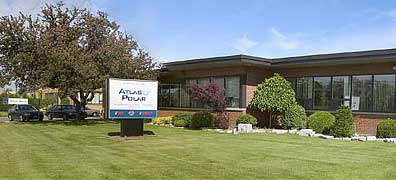 Atlas Polar Company Ltd. is a privately held Canadian manufacturing and distribution firm with offices in Toronto, Calgary, Edmonton and Montreal. Incorporated in 1938, Atlas Polar has grown from a local supplier of Polar marine engines to a multifaceted North American company. The three interrelated divisions at Atlas Polar include Truck Mounted Material Handling Equipment, Polar Crane Remote Controls and Trash Rake Systems.
All company products and services are supported by an extensive distributor sales and service network. After market support is a watchword at Atlas Polar, and the technical department staff are always responsive to customer needs. Much of Atlas Polar's success can be attributed to the competencies and creative abilities of its employees, and Atlas Polar's ability to provide cost effective solutions to customer needs.
Divisions
Truck Mounted Material Handling Equipment Division
The Truck Mounted Material Handling Division specializes in distributing material handling equipment. This division markets HIAB articulated cranes, Moffett Mounty truck mounted forklifts, and Multilift Hooklift Systems throughout Canada. Each of these products ranks no. 1 in the world in its class and sets new standards for safety, features and reliable performance. Other products in the mix include the popular Atlas Polar Mixveyor Concrete Conveyor and the Cleasby Roofing Conveyor. The Material Handling Division is frequently called upon to re-design and modify existing equipment to suit new and varied industrial and commercial applications.
Polar Remote Control Division
The Polar Remote Control Division has over 30 years of experience manufacturing and distributing remote control systems in North America. Ongoing research and testing at our facilities has led to the development of successful new fully proportional and radio control models. Recognized as a leader in the field of remote control systems this division also develops new technologies to equip systems distributed through the other divisions at Atlas Polar.
Hydrorake Division
With expertise garnered over 30 years in the field, the Hydrorake Division has built a solid reputation as the principal supplier of totally automated trashraking systems to the Hydropower and Water Management industries. At present, there are over 300 installed Hydrorake Systems cleaning water intakes throughout the continent. Hydrorake control systems are manufactured, assembled and fully tested at Atlas Polar facilities and with the support of the engineering and CAD department, this division offers custom site solutions and complete turn-key installations.