EFFER CRANES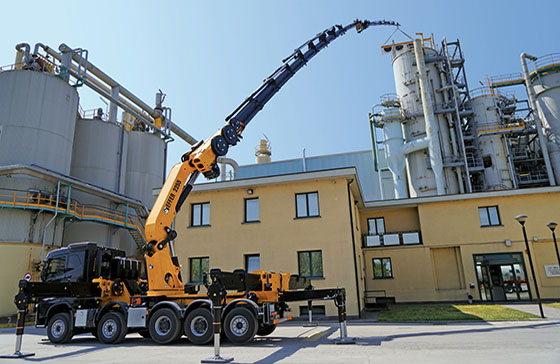 More load capacity + more lifting power using smaller trucks
Capacities to 108,000 lbs; reaches to 197 ft.
Best in-class vertical performance + weight-capacity ratio
Stay connected in real-time. All big models have PROGRESS technology
Multiple simultaneous movements with wireless remote control
Versatile configurations, specialized options + capabilities
23 New models to enhance our extensive HIAB range
EFFER has specialized in knuckleboom cranes since 1965, and they are made exclusively in its Italian factories. Like HIAB, they are renowned worldwide for their R&D, safety, performance and their outstanding range and capabilities. Their weight-capacity ratio is among the best in the world.
HIAB's acquisition of EFFER brings a range of 23 models with unique options and capabilities to enhance Atlas Polar's already extensive range of cost-effective HIAB truck-mounted cranes. And, like HIAB, EFFER cranes feature unrivalled safety, efficiency, and performance solutions. They guarantee increased stability, lifting and reach capacity, and the big crane models deliver live progress data from remote control monitors. EFFER cranes feature digital tools, accessories and stabilizer systems for specific industry uses, including construction, logistics, arboriculture, waste management, drywall, roofing, brick and block, and heavy material loads.
Versatile configuration, distinctive features maximized capacity + reach
EFFER medium-class range cranes can be configured in countless versatile ways and have a lifting capacity of 22,000 lbs. Its BIG crane range is just that – with capacities up to 108,000 lbs. and reaches to 140 ft. They're designed with extremely reduced space behind the cab to maximize loads, and all big cranes come equipped with advanced, reliable PROGRESS electronics for remarkable safety and manoeuvrability.
The EFFER 525, for instance, can be successfully installed on a crawler as well – for those places inaccessible by trucks. Other large crane models fit on small trucks for excellent lifting power and low weight: install the EFFER 685 on a 27-ton GVW truck; the EFFER 1855 on a 36-ton GVW truck.  The EFFER 1750's reduced weight and compact dimensions allow installation on 4-axle trucks with a remaining payload of up to 3 tons. This model also lets you combine its basic boom (up to 8 extensions) with two types of jibs for one of the longest hydraulic outreaches in its category.
Operate in areas where other cranes cannot
The new EFFER flagship model 2255 features unique KJ technology that makes it possible to change the crane configuration from 8s to 10s for a height of almost 115 ft. vertically. In its maximum configuration (8s+KJ2s+ChanJib L6s), the 2255 reaches a height of 180 ft. and ensures outstanding performance. The EFFER 2655 features an exclusive high-speed Wind & Drive winch system and lets you reach a height of nearly 197 ft – the maximum height in its category – allowing load lifts in dense urban areas where other large mobile cranes can't operate.
And EFFER's latest crane, the EFFER 1000, changes the crane game. It is the first to offer a 9-boom structure with 6 jib extensions, giving it the best vertical performance in its class. It's a flexible advantage compared to larger, bulkier mobile cranes that let you carry out a wide range of types of load deliveries in tighter spaces.
And, of course, all EFFER cranes are fully supported by HIAB, Atlas Polar, and our national truck-mounted sales and service network – #1 in the country. Order yours today!