Meet the HDPE – Another Industry Standard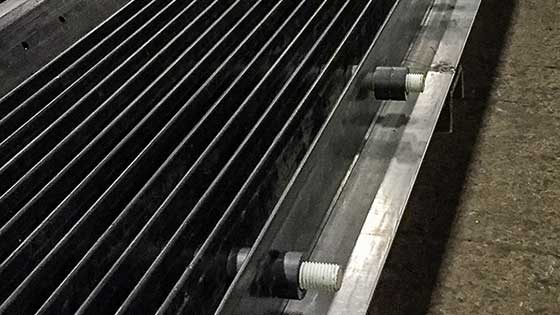 Lightweight, high-impact, heavy-duty polyethylene construction is built to last
Virtually maintenance-free – prevents frazil + anchor ice, marine growth + corrosion
Reduce flow resistance and improve water passage to pumps + turbines with continually extruded blades with radial edges
Fully assembled + easy to install
Customize to suit your site and spacing
Atlas Polar's state-of-the-art reinforced HDPE POLAR RACKS™ now set the standard for racking alongside our Hydrorake waterway debris removal systems – part of a 35-year tradition of quality and service that have made Atlas Polar #1. Made from high-density polyethylene, the continually-extruded rack blades are smooth, hard, non-porous, supported by fiberglass rods and virtually indestructible. They resist everything that can impede your water flow: frazil ice, anchor ice, destructive marine growth and UV damage. No matter the impact or the weather conditions, they're a cost-effective solution for power generation plants, pulp and paper mills, municipal water intakes, waste treatment plants and other applications. They're fish friendly and meet strict environmental standards.
Steel racks are still a viable solution – and we make the best. But these high-tech plastic racks are the future of the industry. Low maintenance POLAR RACKS™ are engineered to save money and labour, with radial lead and trailing edges to reduce flow resistance and improve water passage to pumps and turbines. They can be spaced to suit your needs, customized for your site and come fully assembled so installation is easy.
POLAR RACKS™ will work with any water management system. But when combined with Atlas Polar's Hydrorake™ system and wireless Polar Remote™ control system, keeping work and water flowing is a given.
And of course, they're built by and backed by Atlas Polar – #1 in North America.