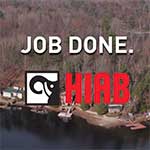 ONE ARBORIST. ONE HIAB. ONE GRAPPLE SAW. JOB DONE.
Being an arborist is one of the most challenging jobs there is. It takes a skilled, tight-knit team to tackle trees efficiently and safely. So how to make tree cutting and removal faster, simpler, more efficient and safer? HIAB has a solution: one arborist, one HIAB and one grapple saw. Job done. Onto the next one.
Watch it in action.
Ice storms, winter weather, and Canada's endless growth and expansion rely on highly trained arborists to often be front line workers. There's always an urgency to get the job done and done safely. Arborists are like a well-oiled machine that makes way for everyone else. The challenge is how to do that so much better, easier, faster.
That's where HIAB comes in. A single operator with a HIAB grapple saw is all it takes to put your arborist business a cut above. HIAB's quick-coupling system makes it easy to connect the grapple saw to the crane tip. From the safety of the ground, HIAB's ergonomic remote control system puts all functions close at hand and ready to put it all into action. Use it to extend the front, and rear hydraulic stabilizers evenly distribute weight and provide solid support. Then up, up, up with smooth, precise reach, to full extension. The grapple saw grasps, saws, removes and lowers even massive branches with precise positioning and control.
There are many HIAB truck-mounted cranes ideal for the purpose, based on reach and truck set-up. One of these is the HIAB X-HiDuo 258. It delivers top form, a 21-metre reach and over 30 handling functions – many simultaneously – with a quick touch of its HIAB XS Drive™ remote control. It makes it easy to reach and access those heavy, hard to get to branches. And its multi-boom system combines with Automatic Duty Control (ADC) and Automatic Speed Control (ASC) to automatically boost capacity by 10% – great for removal. The HIAB X-HiDuo 258 delivers big savings in time, labour and more – its Auto Dumping of Oil (ADO) feature also saves oil and fuel. It's the perfect package to put money back in your pocket and your business.
The HIAB solution is simplicity itself – and simply the best answer to the tough job of tackling tree pruning and removal. With a HIAB and grapple saw, your arborist team can work safer, save time and money, and perform like one well-oiled machine.