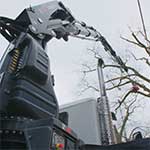 ONE ARBORIST. ONE HIAB + JIB. ONE GRAPPLE SAW. JOB DONE.
When you're staring up at a tree canopy that's staring you down, you need to give it all you've got – without using up all your resources. When that job is big and tough and heavy and way up there, it calls for a big truck, a big crane, a big extended reach and the tool to do it right the first time – simply, safely and efficiently. The answer? One operator. One HIAB HiPro 638 + 150x jib. And one grapple saw. Job done.
The crane, the jib and the grapple saw
One crane: Smaller HIAB cranes and trucks are the ideal solutions for tight spaces, but some situations call for the arborist to go big or go home. The HIAB X-HiPro 638 is a powerhouse of control, capacity, safety, stability, performance, precision and durability. And it boasts a bunch of innovative HIAB-only features that put those in play like nothing else. Like a 30+-function remote control system, and safety and stabiity systems that automatically correct for changes in leg position and unintentional lever movement. Other high-tech, high-performance features automatically boost capacity by up to 10% when you need it most (great for removal) and save time, money, labour, oil and fuel. All in all, it's an arborist's big dream machine.
One jib. Adding the folding HIAB 150x jib extension to this truck-mounted crane lets you take on that tree canopy face-to-face. Reach out 33.7 metres (110.6 ft), then 'up, up, up' to 36.5 metres (120 ft). All with enough power and versatility to move under, over or around to position the saw exactly where you want it.
One grapple saw. The grapple saw puts your arborist business a cut above the rest. HIAB's quick-coupling system makes it easy to connect to the crane tip. And HIAB's ergonomic remote control system quickly and easily positions your grapple saw to grasps, saw, remove and lower even massive branches with precise positioning and control.
With one operator, one HIAB HiPro 638 + jib and one grapple saw, you can say hello, and goodbye to even the biggest, most difficult branches.
Job done.