HIAB's Truck Mounted Cranes Now in Iraq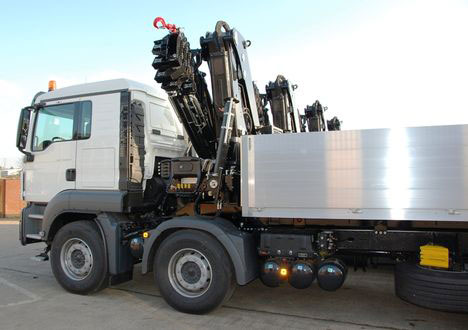 HIAB's truck mounted cranes are everywhere, including Iraq. Last week, Cumberland Industries completed its order for ten HIAB XS 377 cranes. Mounted on a MAN 8×4 chassis, the loader cranes will be put to work in Iraq. The XS 377 is part of the company's XS 422, XS 322, XS 288 and XS 244 intermediate truck range. With this order, HIAB has yet against expanded its reach to different parts of the world.
What makes the XS 377 such a reliable truck crane? For starters, it has an excellent maximum hydraulic outreach of 20.9m and a lifting capacity of 10,000kg. Completing HIAB's 20 tonne to 40 tonne line-up, the XS 377 is its most powerful crane available for 3-axle trucks whilst also having the longest outreach. The loader crane offers the best of 'three' world, i.e. lifting capability, low tare weight and outreach. This way, it delivers the optimum performance in its class and gives businesses excellent solutions.
The optional jib of the XS 377 enables greater productivity; operators can handle 450kg loads up to 26 meters out. Like all HIAB cranes, the 377 can withstand harsh environments and high-stress jobs. Its rack and pinion slewing system is robust, and runs in an oil bath for maximum durability as well as precision. Its side pads are large, lowering the wear and tear suffered by the boom system. The crane's JIC couplings also keep service time low. The XS 377 attracts the highest re-sale price in the industry, which is a characteristic feature of all HIAB cranes.