This HIAB Moffett M4 25.3 Looks as Good as it Works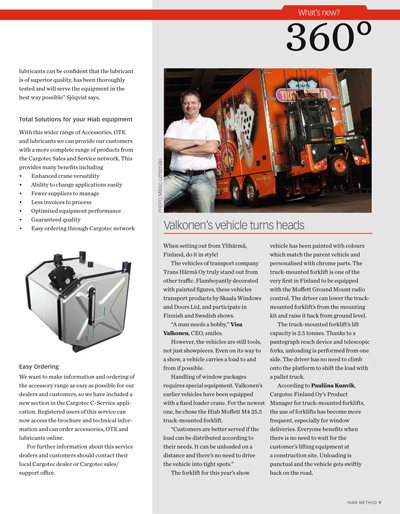 Customizing a truck for an eye-caching look is one thing, but personalizing the forklift mounted on it is another! That's exactly what Finnish transport company Trans Härmä Oy has done with its HIAB Moffett M4 25.3. The truck mounted forklift has been painted in the colors that match its parent vehicle, and even customized with matching chrome parts. This vehicle-forklift combo is meant for show purposes, with Trans Härmä Oy taking part in many Swedish and Finnish shows.
The orange-and-black (with other design elements) forklift has been featured in the latest issue of HIAB Method magazine. Trans Härmä Oy transports window packages, which makes the choice of the HIAB Moffett M4 25.3 ideal. The forklift has been designed for door and window deliveries, amongst other applications like delivering building materials and fertilizers, distributing LPG and industrial gas, and waste management.
But work holds precedence over all else, of course, and in the performance department, the HIAB Moffett M4 25.3 has met all expectations. It has a 2.5 tonne capacity, and the versatility to work on both off-road surfaces and paved roads.
What is more, this is the first truck-mounted forklift in Finland to come with a radio control. The Moffett Ground Mount radio control allows the driver to lower and raise the forklift from the mounting kit and ground level respectively. Trans Härmä Oy CEO Visa Valkonen says that the M4 25.3 has made unloading more convenient for the driver and added more efficiency as well as swiftness to the process.