Quality Assurance from the Outset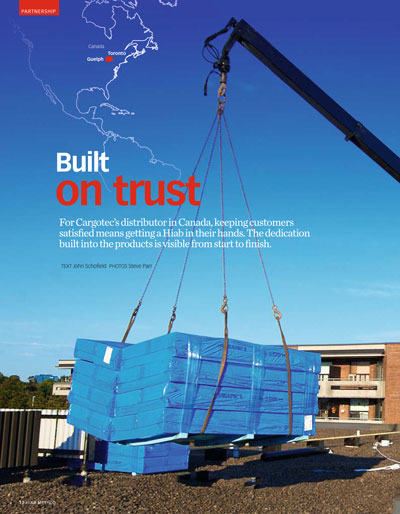 As the exclusive distributor of HIAB equipment in Canada, Atlas Polar is the go-to destination for quality HIAB cranes, Moffett truck-mounted forklifts and Multilift hooklift systems. The company has gone from strength to strength over the years, with a fairly healthy economy and a flourishing energy sector contributing to greater optimism.
Customer demand has also remained strong given that HIAB products have delivered the expected performance and Atlas Polar has remained committed to customer service excellence. An article in the 2/2011 HIAB Method magazine takes a more detailed look at how Atlas Polar has reached out to and served customers dedicatedly.
Companies looking for load handling solutions have to match their needs to the equipment perfectly; this promises a good ROI. The equipment provider, on the other hand, must understand these needs properly to be able to suggest the best solution. And that's what Atlas Polar focuses on to ensure that the HIAB truck-mounted crane or Moffett forklift in question serves its purposes admirably. This is perhaps a reason why customers trust Atlas Polar to meet their unique requirements. Take for instance, Canadian company Patene Building Supplies, which purchased the HIAB XS 453K truck crane to enable lifting and lateral transfer of roof supplies 12m in the air. HIAB's innovative products have also made previously restricted areas more accessible now, thereby catering to many more applications successfully.
Atlas Polar gives its customers multiple options to own quality HIAB equipment. It is recognized for truly flexible in-house financing. For the past twenty years, customers have enjoyed the many advantages of Atlas Polar's rent–to–own programs, short-term rentals and direct purchasing options.