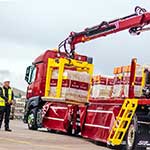 108 REASONS WHY LANDSCAPERS TRUST HIAB CRANES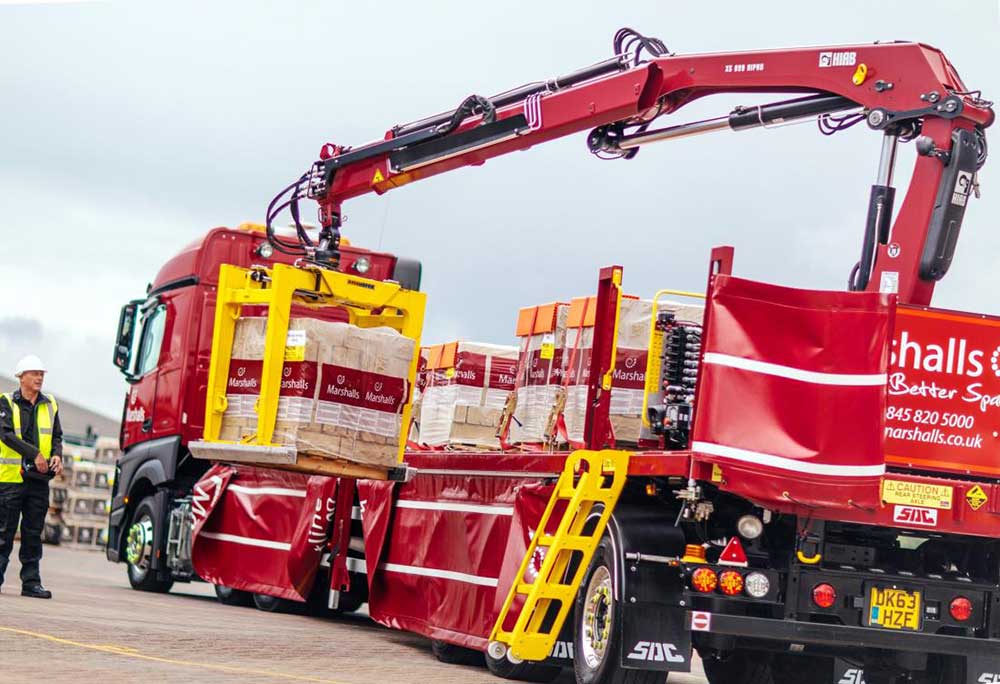 There are many reasons why landscape companies love HIAB truck-mounted cranes. UK hard landscaping manufacturer Marshalls represents 108 of them.
To develop and execute a long-term fleet replacement strategy for its integral crane equipment, Marshalls undertook a review of what they had, what they needed and what they wanted to sustain and grow their business for the next five years. To do this, they completed a full market appraisal, including a trial of all current crane brands. They sought feedback from drivers and monitored their performance.
They chose HIAB articulating loader cranes – 108 of them to be precise – for a lot of good reasons. Nigel Basey, Logistics Director, Marshalls plc, was particularly impressed with the high service levels of their existing HIAB crane fleet and opted for HIAB's ProCare™ Total Repair and Maintenance contracts for eight years – an invaluable advantage for fleet management. Marshalls was also won over by the added benefits of HIAB's HiConnect™ system. This connectivity software for HIAB cranes provides real-time insights to optimize operation, use and condition and provides easy analysis for fleet management and planning. And HIAB's remote-controlled operation and unparalleled field of vision take safety and precision to the next level.
Marshalls is a large, 'complete' external landscaping company. It delivers everything from planning to engineering, guidance and delivery to customers from the Scottish Highlands to the southern tip of England with a fleet of 200 vehicles. Safety, speed, efficiency, reliability, durability and performance are all critical to delivering on its ambitious three-day delivery brand promise.
Marshalls' 108 new HIABs are divided between HIAB X-HiDuo 138 B-2 loader cranes with HIAB Brick Grabs and HIAB X-HiPro 099R Roll Cranes with Brick Grabs and delivered via Zenith. The first will be installed on truck-trailer combinations by Massey Truck Engineering. The second will be installed on the SDC Trailers construction spec platform trailer.
Marshalls invested € 4.9 million with HIAB to sustain and secure the future of their fleet and business. And have 108 reasons why they did.