X-HiDuo 138 Truck Crane
IT'S ALL ABOUT THE CONTROL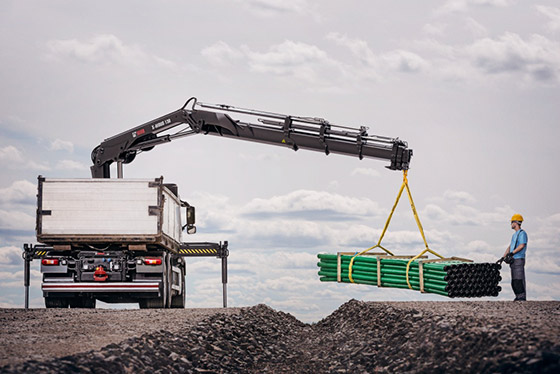 10% added capacity – when you need it – with no additional time or effort
Optimized oil flow = less fuel, less waste, longer life + fewer emissions
Increase productivity: Control over 30 crane movements – many simultaneously
Up to 4 hydraulic extensions with no links – perfect for lift + load jobs
Highest resale value in the market
Total coverage with Canada's #1 coast-to-coast sales, service + support network
The HIAB X-HiDuo 138 delivers it all – durability, performance, ease of use, high safety, efficiency and best of all, high value and savings. It also delivers surprisingly high lift capacity for relatively light mid-weight crane. It lifts just over 4,400 kg and has reach of 15.1 metres.
Like all the X-HiDuo models, the HIAB X-HiDuo 138 is centred around its unique remote control system. Just a touch of the ergonomic XS Drive™ controller lets you steer over 30 different functions – several simultaneously. It's just one of a number of smart control features that keep the operator and crane safe from damage, reduce stress and fuel costs, boost capacity, reduce downtime and ensure your load is always stable. Automatic Duty Control (ADC) and Automatic Speed Control (ASC) are standard to this control system and work together automatically to boost capacity up to 10% – no interruptions and nothing for the operator to do. And Auto Damping of Oil (ADO) provides a smooth return to exactly where your lever stops – every time.
More than just lever control
That control extends to performance and ease of use as well. The HIAB X-HiDuo 138 comes standard with B-Link Boom system – up to four hydraulic extensions work without links – so it's perfect for lift and load jobs. Instant response, even during vertical lifts, ensures you're always in complete control of your load. Automatic oil dumping returns oil back to the tank in just three seconds, so you use less oil and have lower fuel costs. And easy-tilt stabilizer legs keep you steady.
You can also add a host of options and accessories to improve performance and profitability even more. They include a base-mounted oil tank, optimized E-link system for fewer, longer extensions and up-close power. That E-link boom system can also be combined with a vertical Load Stability System (LSS-V). A horizontal system is also an option (LSS-H). Like a joystick instead of a lever? Go for that. Or upgrade to an S-Boom to boost lifting height close to the column. Boom Deployment Assistant (BDA) is also available on this model. It monitors angle and position during folding and unfolding to avoid operator error. Then there are accessories: a range of rotators, hydraulic hooks, pallet forks and brick grabs.
Control of your time, your maintenance and your investment too
Time is money and HIAB knows it. Like all of HIAB's new modular X-series cranes the X-HiDuo 138 is easy to mount, easy to access, easy to operate, easy to service and easy to own. The innovative design hides hoses where they can't be damaged. Couplings are made to prevent leaks. The oil tank is integrated in the crane base where it's quicker to reach and more easily installed and serviced. High tensile steel construction is lighter, faster and delivers a bigger payload. Patented nDurance™ finish forms a protective shield that prevents corrosion and keeps your crane looking good for a lifetime.
The HIAB X-HiDuo 138 saves you time and money. And it's all backed by Atlas Polar's national service network – #1 in Canada.
Technical Specifications
Lifting Capacity: 4400 kg @ 2.8 m / 560 kg @ 15 m
Max Hydraulic Outreach: 15.1 m