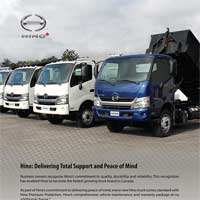 We're proud Hino stands with us on quality
When it comes to recognizing a commitment to quality, durability and reliability, business owners recognize Hino trucks. And when it comes to Hino recognizing those same qualities, they recognize Atlas Polar's Multilift hooklift.
We were delighted when we spotted the Hino corporate ad running in the recent issue of Today's Trucking magazine – one of the top online news vehicles for the trucking industry featuring one of their top-ranked trucks sporting our Multilift XR5.
The Multilift XR5 is one of our top selling hooklift models for single axle trucks. It comes in a range of body lengths and make a strong addition both to your truck and your bottom line because they don't let you maximize your valuable payload availability.
Multilift hooklifts are the strongest and lightest models on the market. They come standard with advanced hydraulic and control systems that can be managed in-cab by one operator. Large durable shafts and sealed bearings mean minimal service needs. Hydraulic frame and rear body locks ensure loads are secured for transport and safe, easy dumping. And load holding valves on all cylinders ensure safe operation while protecting against broken hoses. We're convinced they're the best and our sales would support that.
Multilifts are the #1 selling forklifts in Canada. We're happy Hino chose to pose with us.