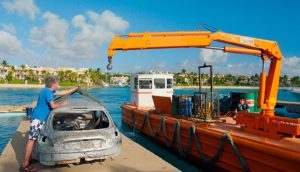 Crane Delivers Coral Nursery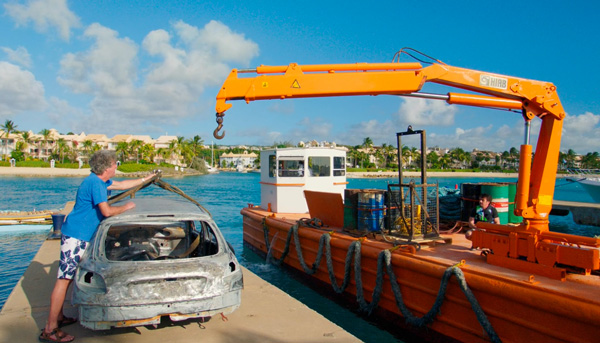 It may be that storks are the quintessential unit of delivery for new births, but when a trio of outrageous Brits gets involved, don't expect anything to be done in the usual fashion.
When comedians and car buffs Richard Hammond, James May and Jeremy Clarkson took their Amazon 'Road Show' to Barbados, their choice of delivery method was a crane.
Over clinking glasses, the trio bemoaned that under the shimmering waters of the Caribbean, all was not well. The clarity of the water had much to do with the fact that, on the sandy floor, most of the coral reefs had died or were dying.
The Barbadian government had, some years before, sunk the carcass of a ship to encourage the birth of a new reef. And it gave them an idea.
As cars are much to blame for the killing of the reefs, and there are millions of cars, why not use them? It would save them being recycled – so much simpler – and the birth of a fantastic environmental idea. Not to mention a great idea for Season 1, Episode 10.
Here's what followed, at least initially: 5 cars, stripped to the frames; one misses the boat, the 'Rainbow Worrier' – and then there were 4. One is dropped full force on the already leaky boat, capsizing it. Then they're shooed off as they're disrupting the normal docking area of the cruise ships.
Round two: The trio of crazy comedians takes to a marina, builds a raft, and hires a boat with a HIAB marine crane. Success! Bobbed the apples! So easy, even these guys could do it – in their minds, evidence of their 'manly' aptitudes. Mind you, it took some doing and some mayhem to anchor the frames.
Only these three could come up with such a novel and cockeyed approach to an environmental catastrophe. And use a crane in place of a stork.
Back to shore. Glasses up! The birth of a new coral reef is underway.
Good work lads! And good work, HIAB.