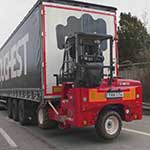 Toughest Event Needs Toughest Contender
Toughest SE is a sporting event company that gives new meaning to the word challenge. Their obstacle courses take place in multiple regions and geographies around the globe, in all kinds of conditions, challenging contenders to show the grit, determination, stamina and teamwork to make the grade in the world's toughest event.
They need the toughest contenders. And they chose the Moffett M5. In fact, according to construction manager Theo Soderberg, "We cannot see using any other forklift for our business." That's pretty high praise.
A business like Toughest's depends on reliability, durability, flexibility and performance. And the Moffett M5 truck-mounted forklift is a perfect match. Toughest uses its M5 for multiple purposes – construction and building its obstacles – making it very cost efficient. It's quick to mount and dismount, requiring just one person, and mounts right on the truck – front or back – so it's guaranteed to arrive at the same time as the product.
Obstacle races are, by definition, unpredictable. And when you claim to be the world's toughest event, you need to be ready for anything a location can throw at you, or that you can create. The Moffett M5 performs in any terrain –hills, sand, mud, water, gravel, anything. Its patented Pantograph with Lift Assist feature allows same-side loading and unloading, and its 4-Way handling lets them unload in narrow spaces.
When you're competing, you need every advantage you can get. For Toughest SE, their Moffett M5 delivers that edge. The company is rapidly expanding, and owner, Nils Franzén, makes a direct correlation: "There is no future for Toughest without the Moffett M5."
The race is on. And Moffett will be there.