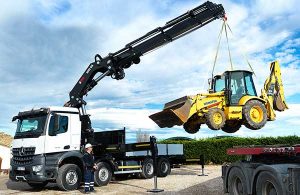 Master Class: The Hiab X Hi-Pro 858 Will Put You At The Top Of Your Game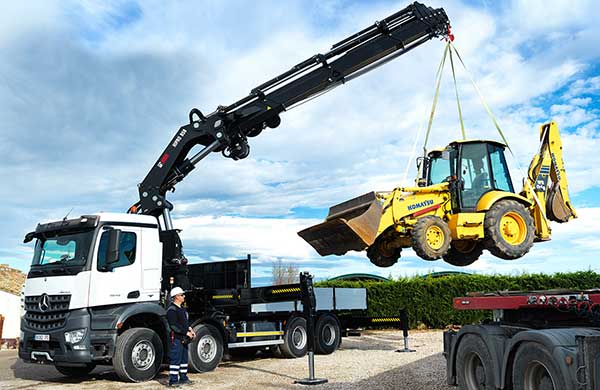 The HIAB X-HiPro 858 is the second of three new high capacity heavy cranes from HIAB, completing their 'Big Five'. And with an 80 tonne capacity, a parallel outreach of more than 34 metres and 38 metres on the vertical, it's going to make you look up and take notice.
They call it 'Mr. Flexible'. Why? Because eight jib extensions make it incredibly versatile. So you can use the same truck for several different applications, saving the cost of maintenance, multiple trucks, and the labour to support them. And together with its advanced technology, all-round performance and a host of new features, the HIAB X HiPro 858 lets you master heavy bulky jobs in almost any sector or situation. That all adds up to a sound business decision.
Smooth, Simple + Superior
HIAB is committed to unmatched control, safety and reliability, and the HIAB X-HiPro 858 is no exception. It's been loaded up with a host of features and benefits to increase its effectiveness in all those areas – particularly when performing under heavy loads. And it's designed with the operator in mind, with simple controls that are easy to use and deliver smooth, accurate maneuverability.
Absolute Precision
The first thing you notice is how precise and smooth the manoeuvrability of the jib is. Then you realize that you have eight different jib extensions that provide the flexibility across any number of applications: deliver a payload through a fifth floor window, a narrow passage or to a rooftop. The HIAB X-HiPro 858 will go anywhere you want to go. And that extra-long support that is impressive even at full reach.
A Bird's Eye View
One of the most masterful new additions is an enhanced remote control display that gives the operator access to all technical data and hoist capacity at a glance. They can see the details of every angle of the jib in relation to the stability of the truck. One display is fitted on the transmitter and a second, external display is mounted on the base.
What Else Is New?
What else is new with the HIAB X-HiPro 858? An integrated sub-frame, base-mounted oil tank and fully integrated, hydraulic easy-tilt legs make for faster installation. An easy folding jib and hoist system makes putting the crane away after a job well done safer, faster and easier.
The HiPro control system, which combines the CombiDrive2 remote control, SPACE 5000 intelligence and a variable pump, Automatic Speed Control (ASC) that increases capacity, and Pump Flow Distribution (PFD) that maximizes productivity by ensuring full time, ultra-smooth operation. And last, but not least, the VST+, a new smart stability system that takes the weight of the truck into account it calculating stability.
Of course, you can't stay at the top of your game without incredible service. Backed by an outstanding Canada-wide service network, the HIAB X-HiPro 858 is in a class of its own.