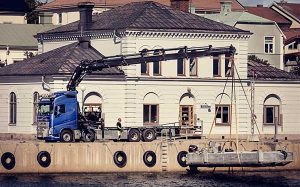 The Hiab X-Hipro 1058 From Atlas Polar: Big Tasks Need A Strong Partner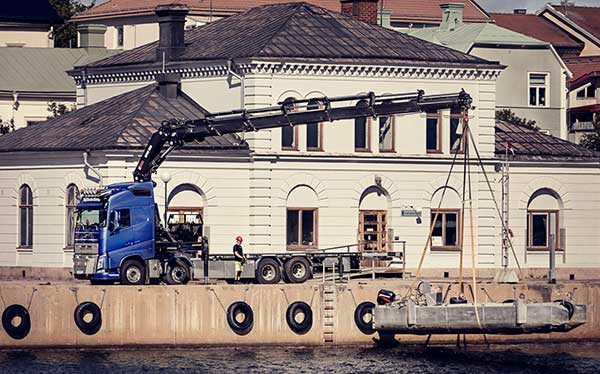 HIAB's biggest crane yet is the 94 tonne/metre X-HiPro 1058 – big enough for almost any tough job, anywhere. And with a vertical jib reach up to 38 metres, it can rise to almost any situation with speed and precision.
Since its recent European launch, it's taking the world by storm – you'll find the X-HiPro 1058 hard at work in mining, agriculture, construction, manufacturing and all kinds of industries from Germany to Latin and South America. And it's now ready to get down to business in Canada's tough terrain.
The X-HiPro 1058 is the flagship of HIAB's 'Big Five' and comes with a series of innovative new features designed to reduce set-up time, increase productivity, precision and performance, improve safety and deliver a real return on your investment.
The integrated sub-frame on the crane base is a big new feature. Together with the new auxiliary legs, it ensures a perfect fit and drops installation time to a minimum. Improved sequence cylinders and a chain-driven stabiliser span move the crane quickly to working position, while six boom extensions speed up lifting and lowering.
The X-HiPro 1058 is made for productivity. It features a new Load Stabilizing System (LSS) for easier and safer load handling, protecting cargo and the surrounding area from potential damage. Also new is Automatic Speed Control which, when working with the advanced V200 variable pump and Pump Flow Distribution, and its superior HiPro control, increases capacity by 15 per cent.
Safety is always of big importance for us and for them, and it's one of the big reasons why we're so impressed by the innovations, like hydraulic easy-tilt legs and a Variable Stability Limit (VSL). These bring safety and stability to a whole new level by sensing the exact position of the crane and ensuring legs are always in contact with the ground. They keep work going by increasing the lifting capacity where other systems could force the crane stop. And the HIAB X-HiPro 1058's high-tech, high boom logic takes function speed down when the boom is lowered too quickly to maintain stability.
Durability, reliability and service are critical considerations when making any big investment – particularly for big loader cranes like the X-HiPro 1058. It's often used in huge fleets with heavy use where reliability is key and downtime is unacceptable. The X-HiPro 1058 is built to last and requires minimal maintenance and service. But if service is needed, it's good to know that an outstanding Canada-wide service network is there to serve you.