The HIAB Crane Assists with Multiple Large Housing Projects with Ease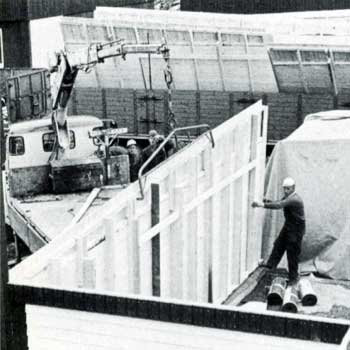 This job story from 1968 illustrates that the HIAB crane has no difficulty in assisting with the speed and precision needed to erect a series of houses in a large housing estate project in the Stockholm Sweden area.
Building housing developments is a project well suited to the HIAB crane. In this particular project, the houses were pre-built, then erected on site with the use of a HIAB crane. When it came to the erection of the garages, this mighty piece of equipment was able to complete the installation of seven garages within one morning.
By using this HIAB crane, the operators were able to avoid the problem of using a second truck to try and position the garages. These loaded transport rigs have an under wheel structure that makes it hard to get close to the site. The HIAB has no difficulty handling all types of terrain, and can work easily in between the load and the foundations that were put in place for the garages.
The erection of the seven garages began with their delivery by two trucks and their drivers. With the assistance of four workers, two building operatives and the HIAB crane, the erection of each garage took between 25 to 45 minutes. The crane slings were used to install the roof sections and a special HIAB attachment tackle was utilized for the wall units.
The process was simple and started with the use of a pair of tongs to grip the top edge of the wall units. Some difficulties arose in regards to maintaining a level position as the tongs had to be applied directly over the C.G. This challenge was easily met with through the tackle that consisted of a yolk type tube fabrication and a hook attached at each end. This allowed for some flexibility in positioning of the center of the wall, so it could remain level enough to be swing across the truck deck to the foundation. Once this part of the job was completed and the wall was in position, it remained harnessed by the yolk. This gave the workers plenty of time to shore the piece up or nail it in place.
This is just one of many examples that shows the flexibility and problem solving attributes that the HIAB crane can handle with the assistance of its various attachments. To read the full article, check out HIAB's Method magazine, issue 10. The article is called "Seven Garages in a Morning's Work."