HIAB Attachments Make Jobs Easier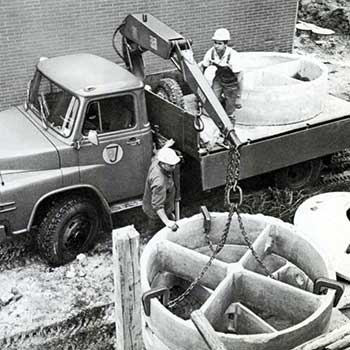 Along with the power, performance and ease of use that comes with the HIAB Crane, available attachments make many jobs easier. Even 40 years ago operators saw the advantages of utilizing attachments to help them speed up their job in a safer manner.
As this 1968 HIAB Method magazine shows, HIAB crane attachments have a long history of being used as simple yet effective tools. An extra hoisting hook does well for an assortment of jobs that require the handling of a variety of types of materials. This extra hook is easily attached to the inner hook of the crane and once attached it increases the hoisting capabilities of the crane.
For case loading operators who owned a HIAB crane, they depended on the HIAB box claws for case loading. Prior to the introduction of these box claws, moving cases was cumbersome and laborious. Operators would have to rely on implementing a rope or sling under the cases in order to move them.
One of the most favored attachments today are the pallet forks. Moving pallets with this attachment has made this job quick and easy. The key to moving pallet loads is to ensure that the goods do not have to be removed from the pallets. This is accomplished with ease with the roller tipped fork easily sliding under the pallete, and lateral adjustments are made as needed according to the palette size. All of this is done quickly and safely as the fork can simply be balanced with the sliding yoke, which is locked into position with its clamp link.
In any task that requires movement and lifting of material, the rotator precision of the HIAB can be counted on for accuracy and speed. HIAB relies on this technology to provide the handling capability that is required in many different industries.
For industries that require large stone removal, they have come to depend on the three chain system of the stone harness attachment. For those that have the job of handling small loads of timber or posts, they can easily rely on the timber tongs.
All of these HIAB crane attachments are easy to install, simple to use and affordable. They provide added speed, precision and extra safety measures that many industrial tasks demand. Thanks to the HIAB crane and its flexibility with the use of attachments, the old methods of completing a variety of different handling and moving of materials have been put to an end. In HIAB's Method magazine, there's an article titled "An Attachment for Every Lift" that shows you how attachments have been used for decades to get the job done with ease.