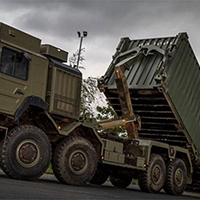 THE BRITISH ARMY'S ANSWER TO A SWISS ARMY KNIFE. AND YOURS.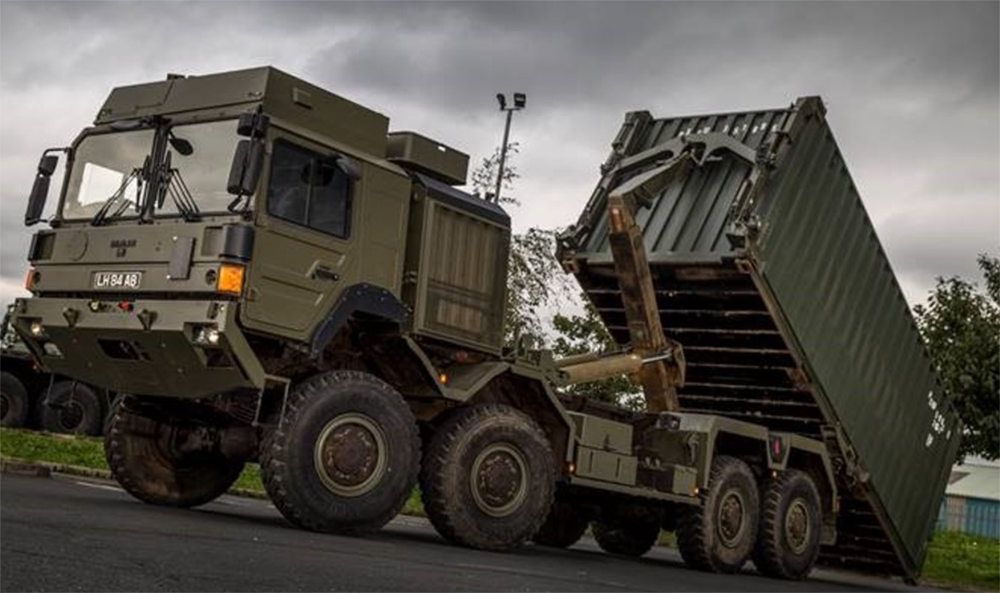 Everyone is familiar with the Swiss Army Knife. It's the all-in-one, multifunctional, 'can't do without it' tool that's found everywhere and taken anywhere. Many people can't seem to imagine being without one.
This version definitely won't fit in your pocket, but it's equally invaluable. The British army thought so and proved it. It's not a pocket knife, but it shares those same 'gotta have it' qualities of the little tool with the distinctive red cross.
We're talking about demountables. Multilift Commander truck-mounted hooklifts and road handling systems, to be specific. They're an analogy for the little knife that could, but a good one.
First, the back story. The British Army began using DROPS, a military version of commercial Multilift hooklifts, in the early 1990s. Demountable Rack Offload load and Pick-up Systems (DROPS), outfitted on HX-range Rheinmetall MAN Military Vehicles (RMMVs), were used to rapidly supply large quantities of equipment to the Royal Artillery and Royal Engineer Regiments in Northern Europe. With 20-foot vehicle platforms, they were a flexible logistics solution.
In 2008, HIAB and the British Army introduced the Enhanced Pallet Loading System vehicle (EPLS) as a complementary alternative for operation in Iraq and Afghanistan. Besides cost savings, the most significant advantage of ELPS over DROPS was its ability to pick up and drop a container in any location a truck can access, without the need for a port crane, heavy forklift truck or other infrastructure to lift it on or off a flat rack. It also lets you drop a container onto the EPLS vehicle from overhead locations, secure it with twist locks and drive away. Or attach the container handling frame to the container while it's still on the vehicle to be offloaded by the hooklift, or vice versa. It's the ultimate flexibility and saves time, labour, and resources. Easy peasy and perfect for military logisticians. And still the gold standard.
The idea was also perfect for civilian applications like emergency, fire and rescue services; special logistics applications, greenfield infrastructure projects; and factory-to-terminal transportation from remote sites.
So, in 2018, that's what HIAB did. Take its amazingly successful military load handling solution and create a version that works for everyone else. The Multilift Commander comes in two lengths for 6 x 4 and 8 x 4 rigids, and thanks to the lighter tare weight vehicles used by the rest of us, it can lift ISO containers to 16.5 tonnes.