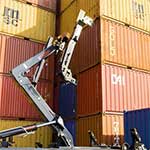 SYSTEM LETS HOOKLIFTS TAKE COMMAND OF SHIPPING CONTAINERS
There are more than 20 million ISO shipping containers just waiting for transport, out of reach for the hooklift industry – until now. The remote controlled Multilift Commander turns the Multilift XR21 into an all-in-one single-truck system purpose-made to lift and deliver ISO freight containers and flat racks. It's the ultimate in value and versatility that cost-effectively taps this lucrative commercial market.
If your truck can access it, Multilift Commander and the Multilift XR21 can lift it, drop it off and collect it again – no matter how awkward, inconvenient, difficult, remote, or challenging the location. You need just the single truck for almost any container application, from cargo and intermodal applications to large warehousing, construction and project logistics. Fire and rescue services and businesses dealing in greenfield infrastructure projects or factory to terminal will find the Multilift Commander and XR21 a massive boost to their bottom lines.
Multilift Commander is tough. Durable. Flexible. Easy to install and use. Choose from two lengths for 3- or 4-axle trucks. The lifting frame and rear support rollers are made from high-tensile steel, and control is integrated right into your easy-to-use XR21 hooklift control system. Safe and secure at all times, once loaded, it's securely locked on the truck. Not in use? The frame stows neatly behind the cab.
It's available now from Atlas Polar, Canada's Multilift distributor.