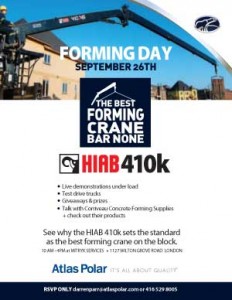 See the Best Forming Crane In Action!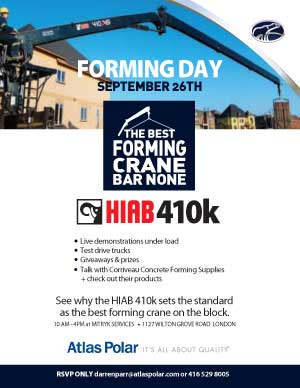 Are you in the concrete forming industry and in search of a truck mounted crane that can get the job done? If you are, you won't want to miss out on the HIAB XS 410K Forming Day at Mitryk Services. This one-of-a-kind event takes place from 10am to 4pm on September 26, 2015 at 1127 Wilton Grove Road in London Ontario.
During Forming Day, you'll experience all of the following and more:
See the best forming crane, the HIAB 410K, in action
Watch live demos under load
Get a hands-on experience by test driving our trucks
Take part in incredible giveaways and chances to win free prizes
Talk with Corriveau Concrete Forming Supplies for a real world perspective of how the HIAB 410K performs

Reserve your spot today for this great event! To RSVP for Forming Day, contact Darren at darrenparr@atlaspolar.com or 416-529-8005 today.

Additional Information About the HIAB 410K
The HIAB XS 410K truck mounted crane was custom designed to meet the special needs of the Canadian concrete forming industry. It offers a huge range of features that will allow you to lift forming cages smoothly, safely, and easily. With its long, 22.5 meter reach and a two main boom design, you'll experience speed and precision like you've never experienced in another crane.

HIAB cranes are also known for outstanding durability. You can see this in the XS 410K's functional design. Its 460 degree rack and pinion rotation system in an oil bath assures that it will work like new for years and the installed thermostatic oil cooler allows for extended operation even in the hottest weather. The HIAB XS 410K has three internally protected extension cylinders and all boom hoses are fitted inside the booms themselves for maximum protection. This is a crane that is built for simplicity. With few moving parts, it requires far less maintenance than a fly jib crane.

The XS 410K crane also lives up to the high performance standards set by HIAB. It's a crane that promises simple reliability and operation without depending on electronics for functions or capacities. Speaking of operation, you'll experience extreme comfort and convenience while driving this crane. The 410K has top seat boom controls, an easy access platform, and main outrigger deployment that allows you to easily adjust it from the top seat. If you're looking for high speed and outstanding fuel economy, the 401K's variable displacement pump offers on–demand hydraulics to deliver both.

The XS 410K is also an excellent choice for high stability and safety. Its 7 meter rear outrigger span and extendable front outriggers offer maximum crane stability, increased ground clearance, and overall reach.

Click here to learn more about the HIAB XS 410K truck mounted crane!