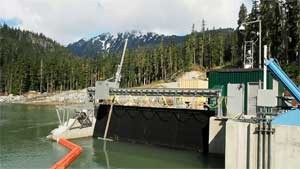 What Makes the Hydrorake the Best Choice to Keep the Water Flowing?
The Hydrorake ST9000 is the ideal choice for water intake facilities where keeping waterways clean and free from debris is essential. In the past, this has meant the use of a great deal of manual labour, but now this task is eliminated with the installation of the Hydrorake. Installed upstream, the ST9000 provides ample space for the removal and collection of trash, while providing a safe working environment through deck access for personnel.
The ST9000 is capable of handling large jobs while operating on the the Hydrorake rail system and can be used in almost any weather condition 24 hours a day. The Hydrorake system mimics the actual movement of an operator raking the screens but in a much more efficient way. The telescopic boom with rake head is extended into the water. Next, the boom is held with constant pressure against the racks as a second cylinder lifts the boom. The debris is automatically dumped when the rake reaches the top of the rack.
To make the process even more efficient and effective, an optional heavy duty conveyer system can be utilized to move the debris to a designated area on either side of the intake. This saves time and money for the quick and easy removal of the collected materials. The Hydrorake works equally well on any intake, regardless of the width or the bar spacing of the racks.
Atlas Polar is proud to provide the Hydrorake ST9000 system as the leading trash cleaning system for intake screens in North America. Learn more about the Hydrorake ST9000.