New Multilift XR5N Hooklift and Isuzu N-Series: Simple, Reliable and Efficient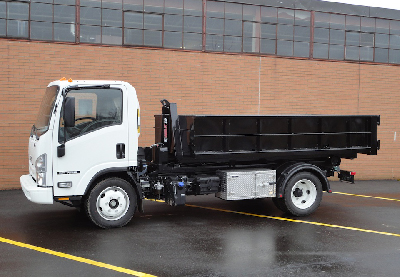 Check out the Multilift XR5N and 2012 Isuzu N-Series truck package. Here, we have an innovative hooklift system working in tandem with Isuzu's proven light-duty truck – the N – Series. What does this compelling package have to offer?
The Multilift XR5N hooklift system incorporates an innovative single-plate subframe, a sliding hook mechanism, a hexagonal lifting arm/hook arm profile, and asymmetric lifting frame designs. All these translate into exceptional performance and simpler operation thanks to easy and quick body mount and demount functions. The clever and pioneering construction results in low weight and high strength, which means that the hooklift system allows greater payloads. The Multilift XR5N has a 12,000 lb capacity and a fifty degree dump angle. It is also compatible with older Multilift containers.
The Isuzu N-Series is the perfect foil to the XR5N. The trucks are easy to drive and maneuver owing to their tight turning circle and low cab forward design. Their flexible frames accommodate a large range of body applications. The cabs are comfortable, boast good ergonomics, and offer very good visibility; so the driver operating the hooklift works out of an efficient space. Powerful engines, low CO2 levels and decent fuel economy ensure good performance and low operating costs.
Safety is an important aspect of any truck/hooklift combo, and in this area the N-Series/XR5N excel. The hooklift system is fitted with load holding and double check valves for load support even in cases where a hose may burst. The off-centre lifting frame and hook arm location offers impressive operator visibility. The best-selling N-Series, meanwhile, is one of the safest trucks in the light-duty class.