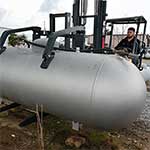 PROPANE HANDLING, STORAGE & DELIVERY REVOLUTIONIZED
HIAB is no stranger to the LPG gas industry. So, news that HIAB has come up with an innovation specifically for their LPG-handling needs should come as no surprise. But this is! A hydraulically-controlled tank-clamp arm attachment that revolutionizes how bulk propane tanks are handled, stored and delivered!
Conscious that many propane delivery drivers are not commercially licensed, the Moffett propane tank clamp arm is designed to fit the lightweight Moffett M4NX truck-mounted forklift series. It's easily adapted to most trucks and trailers, including a 26,000 GVW non-CDL truck, while still maximizing payload. As the forks lift, the tank-clamp arm lowers over the top to secure 250 to 1,000-gallon propane tanks. Port relief valves prevent damage.
And, it's a Moffett M4NX! So you can park your truck and let the Moffett M4 truck-mounted forklift with its propane tank attachment go to work. Moffett's one-person, one-minute mount and dismount kickstart efficiency, whether at the propane tank storage location or on the job site. Then its all-wheel-drive system, customizable features and options take over. Unlike hand trucks and more traditional equipment used in the LPG industry, quickly, safely, nimbly and efficiently lift, unload and deliver not only propane tanks but almost any load up to 4,500 lbs. across any terrain, directly where it needs to go. The Moffett tank clamp doesn't interfere with traditional loads.
More than just a clamp – the Moffett M4 propane tank attachment fuels your productivity.
Learn more.