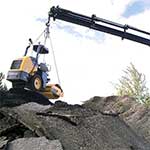 HIAB VSL+: NEVER BE CAUGHT OFF-BALANCE
At Atlas Polar, safety is a key priority – it's one of the key reasons we're so happy to be HIAB's sole Canadian distributor. Once again, HIAB has delivered a significant new safety and performance feature that makes operating a heavy-duty crane safer and more stable than ever before. And it's revolutionizing the way we work.
Lifting capacity is usually calculated based on the extension of the crane's stabilizer legs, but that doesn't consider the truck's load. So, in situations where you can't fully extend the legs, your crane is not lifting to its potential.
Everyone knows that when you operate heavy cranes in confined or narrow delivery spaces, there's often not enough room to extend the stabilizer legs fully – less than ideal when it comes to safety.
But the innovative new Variable Stability Logic PLUS (VSL PLUS) stability system optimizes stability by sensing the position of each stabilizer leg, whether there's a load on the truck or not, and how big a load is. Then, while the crane is in action, it automatically adjusts the crane's lifting capacity based on the actual stability of the truck. VSL+ calculates capacity by calculating stability based on the position of the stabilizer legs and the total weight of the truck.
Need more capacity? With VSLPLUS, you can add additional load to the truck bed to get the job done even more quickly and safely. The loaded truck platform acts as a counterbalance for added stability. It's especially effective when lifting in front of the truck cab – often a zone of lower overall stability. And the more substantial the load, the more pressure it puts on the stabilizer legs so you can lift more and lift it more safely. VSL+ lets you operate the crane to its maximum capacity without stopping, so you gain productivity.
Safety first. With VSL+, HIAB and Atlas Polar, you're never caught off-guard or off-balance. See it in action here: