Peel Region Waste Management Adds a Hooklift and HIAB Crane to Its Fleet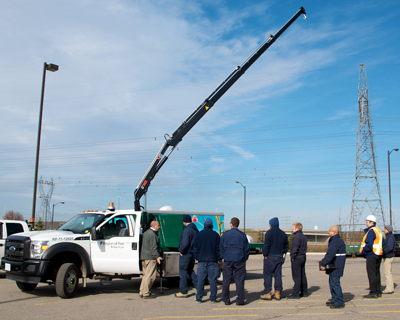 When the team at Peel Region's Waste Management Division began looking for equipment to transport and place mobile signage, they chose a Multilift hooklift and HIAB truck crane.
The job requires workers to move and place signs in all kinds of weather. To carry out this task, the Region chose the HIAB XS 044 truck mounted crane and the Multilift hooklift XR4.
The HIAB XS 044 has a small profile, leaving more room for payload. But with a lifting capacity of 980 kg at 3.5m, this small crane is a powerful performer. It is also incredibly versatile, giving operators a choice of two boom systems and three HIAB control systems.
The Multilift XR4 can move loads of up to 9,000 lbs in containers 10-12 ft. in length. It mounts and demounts quickly, and its lower operating radius during mounting and demounting makes it ideal for use in areas with low heights.
Operator safety was given the highest priority when deciding on transportation solutions. In addition to safe and easy operation, the hooklift (like the crane) offers the team tremendous versatility: "[w]ith the hooklift, the flat bed body used to carry the mobile sign racks can be replaced with other bodies like a roll-off container box for material haulage or a specially designed fork lift system which can be used to transport front-end waste containers."
Together, the crane and hook lift tandem (nicknamed 'Optimus" by staff) "provide[s] the Waste Collection and Processing team with increased capabilities to attend to a wide array of service requests."