Moffett Truck-Mounted Forklift Facilitates Paper Recycling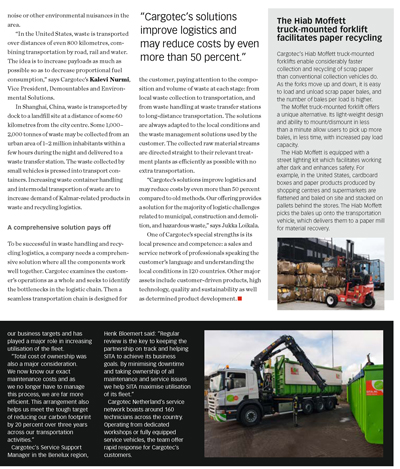 The paper recycling industry requires heavy bales of scrap paper and cardboard to be moved, the more efficiently the better. Moffett truck mounted forklifts have proven to be just the right tool for this job.
An article in the most recent edition of HIAB Method magazine notes that conventional collection vehicles are not as fast as Moffett forklifts for this particular task. "As the forks move up and down, it is easy to load and unload scrap paper bales, and the number of bales per load is higher….Its light-weight design and ability to mount/dismount in less than a minute allow users to pick up more bales, in less time, with increased payload capacity."
Moffett truck mounted forklifts are available in a wide range of lifting capacities and models including multi-directional units for handling long length loads in tight spaces, low profile units for low overhead deliveries, wide frame models for handling wide storage and waste containers, and Pantograph and Lift Assist® models for providing double reach same-side unloading of trucks and trailers.