New Atlas Polar Signs Show Off New Logo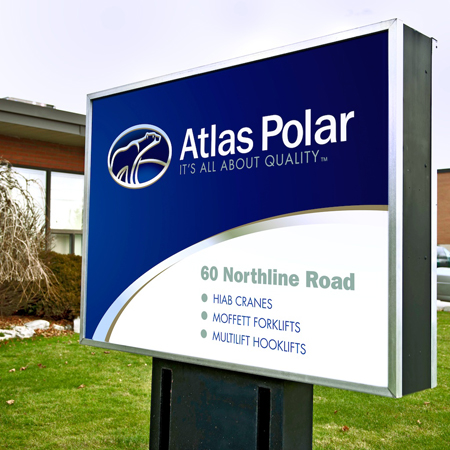 You may remember our announcement, in late summer, about our new logo. We refreshed our logo to give it a more modern and streamlined feel. We also added our new tag line, "It's all about quality."
This tag line reflects our corporate philosophy. We believe in selling quality products, which is evident in all of our product lines. HIAB truck mounted cranes, Moffett truck mounted forklifts, and Multilift hooklifts are all top performers with excellent reputations for durability, ease of use, and safety. Our concrete conveyors—including the first-ever front-mounted Mixveyor — are equally well known for performance, long life, and safety features.
Our commitment to quality includes customer service. We pride ourselves on offering courteous, responsive service across our entire company.
We are pleased to show off our new logo and tag line on our new sign, located outside our head office in Toronto. Looks great, doesn't it?
As we said when we first told you about our new logo in the summer: "We are excited to introduce our new look and we look forward to delivering on our promise of quality in both products and service."