Larry Schnittker retires after 25 Years at Atlas Polar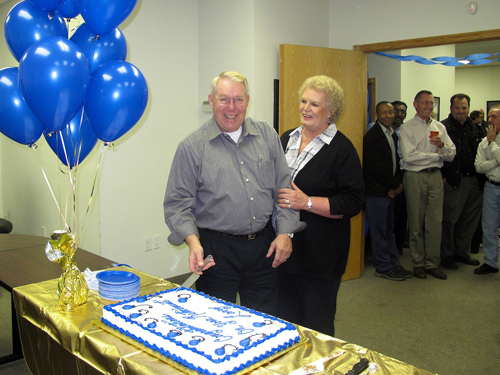 On October 30th of this year, Larry Schnittker officially retired from Atlas Polar. It is a sad time for all of the employees as Larry was a fixture of our team and definitely a lively part of any meetings.
Larry was a member of the sales staff for a full 25 years at Atlas Polar, covering the Western Ontario region. His background in truck body sales and managing a truck body manufacturing division served him well at Atlas Polar, where he was a very successful sales representative , helping to make HIAB cranes, Moffett truck mounted forklifts and Multilift hooklifts well recognized and
respected brands in Western Ontario.
I reached Larry in his car, on his way to meet with a customer. It just so happens that Larry still meets with customers, many of whom he considers friends as well as business partners. I asked him for a few comments about his time with Atlas Polar. He said: "I liked the contact with people and I enjoyed putting a deal together…creating truck packages for customers that would help them with their business deliveries." He also had kind words for his colleagues: "I don't think you could find a better group of people that would gel like they do at Atlas Polar."
After being on the road for so many years, Larry admitted that he's looking forward to spending some quality time at home with his wife, Nancy. Nancy is also enjoying the change and has a long list of chores ready and waiting. Larry has started retirement busy with grandkids' hockey games, repairing truck equipment and more plans on some car traveling in the New Year.
All the best Larry!