New Multilift Truck Package: XR5L Hooklift on International Truck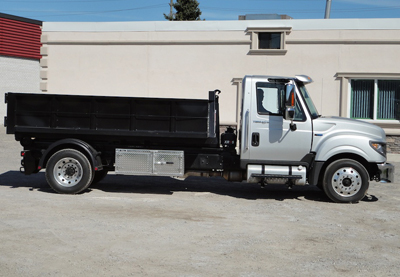 We're having a difficult time keeping up with the demand for our nice-looking and truly functional Multilift hooklift and truck packages!
Our most recent hooklift/truck package features a Multilift XR5L hooklift with lifting capacity of 12,000 lbs and a body length of 12' to 15'. It includes a toolbox, Pintle hook and plate, brake controllers, fenders with lights. Our web page for the XR5 notes that: "This unique, pioneering concept is based on a sliding hook mechanism and innovative new single-plate subframe and asymmetric lifting frame designs. The result is a product that delivers outstanding performance with fast, easy body mount and demount functions. And that's not all. The XR range also brings you unrivalled levels of reliability and safety plus smooth, efficient, trouble-free operation."
The truck in this package is a 2012, 300 HP International Terrastar. Offering three-person seating and excellent maneuverability, this truck is the ideal partner to the Multilift hooklift.
For more information on this great package, visit our Demo/Used Equipment page.