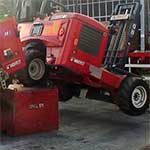 Moffett Presents 'Dancing Forklifts'
I've heard of dancing bears and dancing ponies, but dancing forklifts?
HIAB and Moffett have always been known for their reliability, innovation, high quality and high performance. They're also known for some of the slickest, most innovative industrial videos you'll come across – always compelling, informative and well-edited, about what you'd expect from the leading manufacturer in the industry.
There are a lot of videos out there with Moffett truck-mounted forklifts in action on the job. They're exciting and informative case studies featuring interviews with real people.
There are all kinds of feature videos that provide a clear understanding of what Moffett forklifts are, how they work, and how they make your materials handling jobs safer, easier and more productive.
And then there are a few that get all that across without the need for words or captions. They are just plain fascinating to watch. Two of these,
fit in that category.
Filmed respectively at the Moffett truck-mounted trade show in Hanover, Germany as a tribute to Dundalk, Ireland, its home turf, to launch its next-generation forklifts and at a ploughing championship in Ireland, these videos deserve a seat and some popcorn.
Moffett M4, M5 and M8NX series truck-mounted forklifts are performing some amazing gymnastics to demonstrate their maneuverability. They gracefully (can you say that about a forklift?) spin, turn, tilt, travel, and lift. The choreographed dance of speed, precision and dexterity give you a pretty clear idea of how Moffetts make it easy to lift and deliver materials over any terrain in real-life work situations.
And the operators show all the calm confidence that comes with knowing they're safe and secure, no matter what the movement or situation.
Meaningful, memorable performances, Moffett.
Bravo!