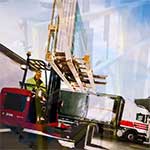 MOFFETT NX 4-WAY: WHEN SIDEWAYS IS THE ONLY WAY TO GO
Driving forward and backward may be all you need for many on-site delivery jobs, but sometimes sideways is the only way to go. And when it is, you need a Moffett 4-Way multidirectional truck-mounted forklift.
Productivity is key to any business. That requires doing more, in less time, with less equipment. On a job site, it also means maximizing loads of any length, width, or capacity and delivering them exactly where they need to go – whether that's through a narrow doorway, around a congested worksite or down a narrow one-way street. When you can also save time, fuel, money and do it in the safest way possible, it will steer your profits in the right direction.
Moffett 4-Way multidirectional forklifts let you go left, right, sideways – any which way you need to go – with effortless manoeuvrability. Quickly switch direction to deliver long loads like lumber, engineered flooring and deck boards, pipes, steel beams and drywall, and switch back when you're in a more open area or are changing to a more standard width load, like bricks. Turn all three wheels at the touch of a button and guide your long load. Another a push of a button and the 4-Way reverts to standard forward-reverse motion.
Moffett NX 4-Way models like the M8 55.4 NX and M8 55.4PL NX save time and money and enhance safety and productivity with some pretty advanced features you won't find on any other truck-mounted forklift brand. Ground Start® lets you lift your Moffett off the kit without climbing on the forklift or trailer. Optional Ground Mount® is a wireless remote that enables you to mount on and off the truck without ever getting on the forklift. They're available with Pantographic Reach with patented Lift Assist® Arms for true same-side loading – even double-stacked. (You'll never have to turn your truck around again). And Moffett's one-person, one-minute mount and dismount is a time saver and money-maker.
Moffett 4-Way truck-mounted forklifts are the only way to go for many reasons – not just when delivery sites are tight but also when schedules are tight and customer expectations high. They let you do more and save more. And they're all reasons that have made Moffett the top-selling forklift brand in Canada with the highest resale value in the industry and the Canadian Industry Standard.
Who wouldn't want to go for that? Watch it in action.