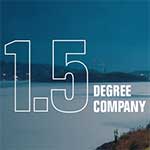 HIAB IS LEADING A CLIMATE INDUSTRIAL REVOLUTION

Climate change has reached the crisis point, and the heavy equipment and logistics industries need to step up and take some responsibility for the levels of CO2 emissions. It's driving a new industrial revolution and HIAB is leading the charge.
According to experts Oliver Wyman, in their insights on manufacturing industries riding the green wave, only 43% of examined European industrial equipment makers and 19% of US manufacturers have announced any CO2 goals. HIAB is taking the lead in a new climate-driven industrial revolution.
As part of parent company Cargotec, it signed on to the UN Global Business Ambition for 1.5˚ campaign – the most ambitious goal of the Paris Agreement. HIAB aims to reduce emissions from raw material sourcing by at least 50% from 2019 levels by 2030. These are real and realistic targets, validated by the Science Targets Initiative. We're on track to reduce emissions by 200,000 tons by 2024.
What does that look like? It starts with leading by example. HIAB's EVOLVE Sustainability Strategy puts it on the path to carbon neutrality by 2030, including fleet cars, goods transportation and energy use in producing its load-handling and delivery equipment.
HIAB's working with its suppliers to reduce emissions from the materials and products they use. It's partnering in developing emission-free steel and will be one of the first adopters of this groundbreaking technology. HIAB is applying sustainability policies across its supply chain, ensuring regulatory compliance and optimizing the weight of our HIAB, Moffett and Multilift equipment. It's reducing the use of chemicals, hazardous substances and rare earth minerals, ensuring equipment lasts longer and requires less maintenance. HIAB is innovating truck-mounted cranes, Moffett forklifts and Multilft hooklifts with electric versions that lead the industry in features and productivity. And its recycling program for older cranes is scaling up.
HIAB invests heavily in R&D to develop and test economically viable technologies that will make its HIAB, Moffett and Multilift equipment more sustainable. That will reduce the need for parts and service, improve work efficiency to work better, faster and safer, and reduce CO2 emissions and transportation costs. Its recent €50 million Moffett Future Factory in Ireland is a massive step toward these efforts.
HIAB has revolutionized the logistics and product delivery industries for years, with innovations like patented control systems and features that get the job done faster, safer and more efficiently, so you spend less time on site. And Moffett truck-mounted forklifts have been operating with green fuel-efficient Tier 4 engines for years.
HIAB's decision to limit its own impact and help all of our HIAB, Moffett and Multilift dealers and customers to reduce their carbon footprints provides competitive advantages, protection for our planet, our dealers and our customers' businesses.
It's a new industrial revolution, and we're in it for the future.