Moffett Meets Production Landmark, Sells 50,000th Moffett Forklift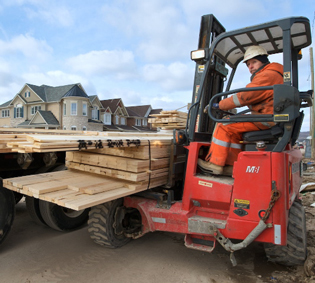 In mid-September 2012, Moffett crossed an important production milestone after rolling out the 50,000th Moffett truck-mounted forklift. The assembly line of the Ireland plant at Dundalk produced this landmark forklift. For the last forty years, the Moffett truck mounted forklift has seen great innovation and development in the transport industry.
Over the decades, the truck mounted forklift from Moffett has enabled quicker deliveries and safe transportation for small and large companies all over the world. The Moffett truck mounted forklifts are useful in many other areas than just transportation, making them a worthy accessory for all companies. A unique feature of the Moffett forklift is its off-road capability. Moffett's M-range forklifts have been constantly refined and fine tuned over the years of excellent performance and reliable service.
The M-range was recently expanded to the E-range that will soon be launched by early next year. The E-range consists of the first truck mounted forklift in the world that is powered by a Li-ion battery, making it an environmentally sound machine. The zero emission range of forklifts from Moffett is suitable for outdoor and indoor use and possesses excellent capabilities. The E-range forklift is energy efficient and meets all standards of minimizing noise pollution and fuel consumption.
The multi-assembly unit at Dundalk is the company's centre of excellence for its extensive research on truck mounted forklifts. The plant also conducts research on production and development of Moffett products that are exported and distributed to over thirty five countries worldwide. Known for their quality, reliability and advanced technologies, the success of the Moffett forklifts has been credited to a committed workforce, talented engineers and technologies enhanced significantly since 1967.