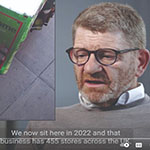 MOFFETT HELPS VETS & PETS BUSINESS MAKE THE CASE FOR ELECTRIC FORKLIFTS
PETS AT HOME is the UK's leading pet care business. Maintaining a competitive edge with 455 stores, over 400 in-store and standalone veterinary practices and a huge online presence demands seamlessly efficient distribution, supply chain and transport operations to ensure product availability. Moffett provided the edge they needed.
The nature of the business means that delivery locations are often in urban centres and residential neighbourhoods where noise pollution and emissions are common complaints. The switch to electric truck-mounted forklifts made sense. Still, the sheer number of delivery locations also requires a sizeable distribution fleet, and change does not come easy to many people.
Steve Travis, Transport Manager for Pets at Home, asked Moffett for help to find a solution that would overcome concerns to benefit their workforce and distribution system.
Moffett hit the ground running, talking to drivers, trainers, management and local communities about noise, emissions and late-night deliveries. They looked at ways to make everyone's jobs easier, safer and less stressful. They addressed the need for speed, efficiency, improved navigation, reliability, durability and investment value.
Within weeks, Moffett made the case for Pets at Home to boost its distribution fleet with all-electric, zero-emission Moffett eSeries NX truck-mounted forklifts with four-way, multidirectional steering and high-lifting capacity. They worked with Pets at Home to ease resistance to change and reassure their colleagues that the company was an invested partner in their success.
The process and the purchase of the new Moffett eSeries NX all-electric forklifts make a significant difference in speed and efficiency, reinforce colleague and customer relationships, reduce environmental impact and pave the way for business advancements.
Another big win? Pets at Home is "delighted" to find the vast majority of its drivers prefer the electric Moffetts. Watch the video to hear Steve Travis talk about the experience.