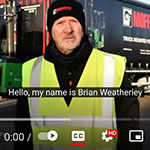 A TRANSPORT EXPERT'S OPINION ON GREEN FORKLIFTS
Brian Weatherley is a transport expert. He's been reporting on road transport technology and equipment for over 30 years and has clear opinions about going green. There has been a lot of talk and a lot written about green transport and green deliveries, but in this expert's opinion, only one company is putting its words into action – Moffett.
In 2015, Weatherley was a media presence at the launch of the world's first zero-emission truck-mounted forklift – the Moffett e-series – describing it as a "quiet revolution." Seven years later, that revolution continues with the new all-electric Moffett E NX.
Weatherley stands staunchly behind the new series with its next-generation lithium-ion battery, HiConnect™ connectivity and the magnetic high-torque electric motor found in each wheel, allowing it to go anywhere a diesel model can. He is struck by the high-tech dashboard display. It gives operators real-time information and service dealers clever menus to keep the equipment in tip-top shape. He likes the on-board charging system's speed, simplicity and flexibility, which makes charging fast, easy and reliable.
In Weatherley's opinion, the Moffett E NX answers the growing demand for noise-free operation and low emissions to future-proof businesses as sensitive urban areas move to zero-emission tolerance.
The new Moffett E NX has the productivity, efficiency and reliability Moffett is known for, backed by an all-green, all-electric, zero-emission drive and, in this expert's opinion, is "super-clean, super-green and super-quiet." We think it's a real testament to the development and testing Moffett has dedicated to its electric truck-mounted forklifts.