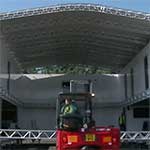 Moffett Forklift Helps Build the Unique Ford Abu Dhabi World Rally Headquarters
The headquarters of the Ford Abu Dhabi World Rally Championship can be best described as unique. The structure is a testimony to modern engineering and architecture that enable the construction of state-of-the-art facilities in just a few days. There are many components, equipment and technicalities that went into the construction process. One of these was the Moffett forklift, which provided suitable assistance in assembling the elite and temporary Abu Dhabi WRC headquarters.
The HQ comprised 6 semi-trailers on two different levels. The Moffett forklift helped in transporting and lifting the building blocks of the HQ with ease, convenience and safety. A five-ton capacity HIAB crane at 18 meters provided suitable assistance in creating this structure. For the record, the headquarters consisted of eight offices, one kitchen, one physio room, and comfortably accommodated thirty-six staff members. It took eighteen men 576 hours to build the structure.
Moffett forklifts are known for their high performance and excellent reliability. They command one of the best resale-prices in the industry and are build to withstand even the toughest outdoor conditions. The forklift design is lightweight and allows maximization of truck loads while the short forklift overhang meets strict regulations on trailer length. The hydrostatic AWD (all-wheel drive) offers excellent maneuverability at industrial and residential sites. The compact, quiet and powerful Kubota diesel engines are reliable and strong. Moffett forklifts come equipped with these standard features, and handle the job at hand effortlessly.
While the WRC is one of the more unique projects that Moffett forklifts have been happy to serve, they are available in different designs and lifting capacities to handle a variety of job-specific requirements.