Michigan Rig Gets Married to a HIAB 177 to Get the Job Done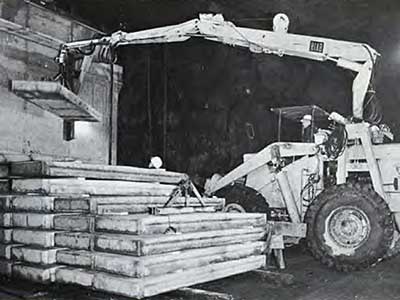 HIAB's Method Magazine, issue number nine, includes an interesting article on how HIAB equipment provided the solution for a very complex sewage works project in Stockholm, Sweden.
This particular project presented three distinct problems. First, they needed a piece of equipment that could take delivery of concrete, which was brought in by truck. Second, it needed to be able to transport the concrete on site, while lifting the concrete to elevated areas. Third, the equipment needed to be highly mobile to operate in tight spaces with sharp corners. In addition, it had to be able to perform the variety of tasks with as little manpower as possible.
At the time, there simply was no equipment on the market that could meet all of there requirements. The solution was reached by implementing a Michigan 175 A1 mounted with a rotator-equipped HIAB 177. This unique unit was named "Hilda the hybrid" and later a second unit was developed and deployed called "Hugo" which was identical except this unit had a detachable concrete bin.
Not only did this prove to be the solution for the demands that were being made by the project, but this equipment was also used for standard tasks that were normally done with conventional methods.
The duel productivity of Hilda and Hugo provided many additional benefits aside from being the problem solver that they were originally implemented for. Their actions eliminated the complexity of barrowing wet concrete, while speeding up the concrete process. It allowed for the reduction in manpower. There was no longer a need for transport scaffolding. There were substantial time saving benefits, as well as cost savings even regarding the cost of the concrete itself.
As the project progressed, it soon became evident that the HIAB had become invaluable to the underground operations it was required for. And other opportunities presented themselves besides the actual casting responsibilities. Hugo was utilized to transport the cover of a huge vent duct from where it was cast to the duct and performs the loading operation, which is a real time saver. The new found responsibilities of the HIAB loader in this project just goes on and on. To read the complete article, click here and read pages 3-5. The title of the article is "All-round hauls in underground halls."