HIAB Cranes Support the Many Tasks of the Building Industry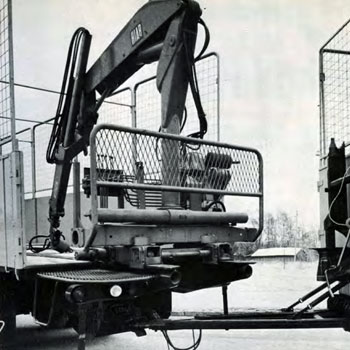 HIAB cranes are top performers in many different industries and are relied on to perform in all types of projects. One industry that has proven that the HIAB is invaluable is the building industry, which has proven time and time again what this equipment is capable of with its versatility and speed.
While the equipment has been used in many complex situations where the requirement is to work hard, in the building industry, more often than not, these loaders are relied on for their precision.
In HIAB's Method Magazine, Issue #009, there are some prime examples of how the HIAB crane was utilized in many different projects on a variety of building sites. The building industry is a prime example of how a transport task starts with the load and is only completed when the goods have been placed in their final destination.
The magazine article shows a picture of how the HIAB 174 got the job done with unloading form goods. It shows how the task of unloading was completed without the truck even having to enter the building site. The HIAB crane was easily able to hoist the load over the fence adjacent to the site.
In another project, the articles shows how easy it is to unload various building materials without the slightest interruption to the work in progress at the work site. This is a prime example of the precision of the HIAB 174.
The article then goes on to show how the HIAB cranes handle different types of concrete with ease, while placing these objects exactly where they are going to be installed. In this case, there was a winch attached to the concrete block to allow the crane to deposit the object into a deep well.
Another example shows the 173 with an extra jib and how the crane handles itself in a tight, cramped space. In this example, the equipment is filling in for a mobile builder's crane. You can see just how easily the 173 fills in for a builder's crane with its jib, while lifting concrete floor slabs and placing them exactly where they need to go.
Be sure to check out the rest of this interesting article in by clicking here.