Moffett M8 and Bloodhound SSC Make a Great Team
Whenever the Bloodhound SSC is involved in an event, it makes for an exciting adventure and the Moffett M8 forklift is a proud to be part of the action. Recently, the two visited the Moffett Engineering facility in Dundalk.
For those that don't know too much about the Bloodhound SSC, it's a real true to life supersonic car that has been built to travel faster than the speed of sound. With its combination of jet and rocket power, it has the ability to reach a speed of 1,000 mph. In total, it weighs over seven tonnes fully fueled and boasts engines that can produce in excess of 135,000 horsepower.
While its not likely that you are going to see supersonic cars such as this travelling the city streets and highways under its own power any time soon, getting the Bloodhound where it needs to go is not a problem for the Moffett M8. For its visit to the Moffett Engineering facility in Dundalk, it was carefully transported by truck along with the Moffett M8 forklift that would perform its duties upon arrival.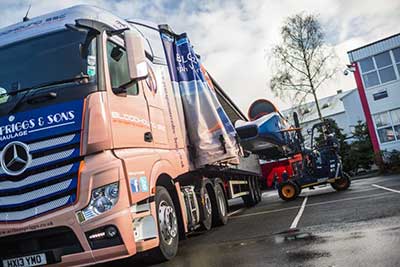 Once arriving at its destination, the Moffett M8 had no difficulties in moving the Bloodhound SSC to where it would be on display, as it has several times in the past. This futuristic SSC model has been built for multiple purposes. It serves as a very impressive way to encourage future generations to become involved in science and engineering through an interactive approach.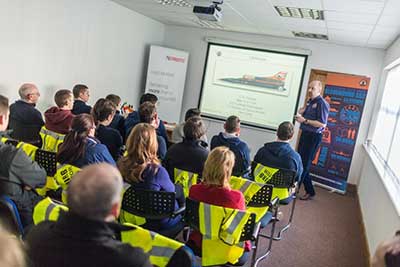 It gives young people who are aspiring to enter into the engineering field a first hand look at the endless possibilities that technology can achieve. The Bloodhound SSC is not only impressive in its looks, but the goal it is in the process of setting, which is to set a new land speed record of 1,000 mph and beating the current record of 760 mph.
The Bloodhound SSC and the Moffett M8 make a great team in that while this forklift may not have the speed of this futuristic vehicle, it has the strength, agility, and precision control to easily and safely get the car on display.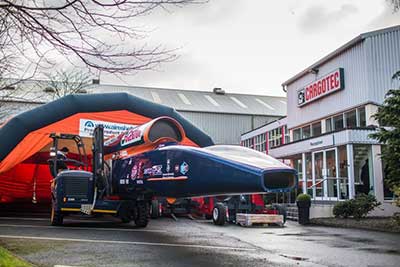 The combined attributes of the leading technology that has made both this supersonic vehicle and the Moffett Truck Mounted Forklift leaders in their respective areas creates an aura of excitement and enthusiasm amongst young people who are planning for a future in the areas of science and engineering. Moffett is excited to support Bloodhound SSC's responsibilities in education, as well as its future plans of breaking the world's land speed record.