Latest HIAB Method Magazine Makes for an Interesting Read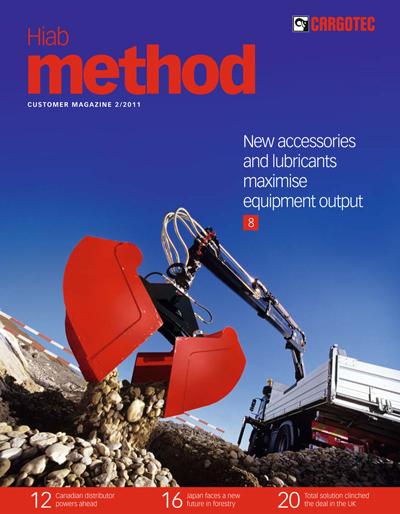 For the uninitiated, HIAB Method is parent Cargotec's customer magazine. Each issue discusses a number of aspects, including the latest company news, and contains interesting feature articles on HIAB products as narrated by their owners from across the world. HIAB Method is a good read, and a great way for existing customers to learn more about the strides the company is making, new products in the offing, and the different applications that HIAB loading solutions are serving so successfully.
The 2/2011 HIAB Method magazine takes you through a new addition to the Cargotec family, the HIAB Multilift XR18S that is fast in all these departments – tipping, speed and lowering! On a different note, read about how Cargotec is doing its bit to help ease the aftermath of the horrific Japan earthquake and tsunami. Handling the mountain of rubble left behind is a huge task, and the scrapping industry in the country is looking at reliable HIAB cranes to help affected prefectures.
When you think of load handling equipment, you generally picture huge mechanical arms hoisted on to trucks, and lifting different types of load. A picture of strength, performance and reliability, but rarely aesthetics! But one HIAB Moffett M4 25.3 owner has jazzed up his truck-mounted forklift with flamboyant colors to go with his equally colorful trucks. The magazine has this and many more enjoyable feature pieces that reveal quite a bit about how HIAB products are offering efficiencies and meeting requirements in so many industries, and on so many levels.