Multilift Hooklifts are Popular Worldwide, Not Just in Canada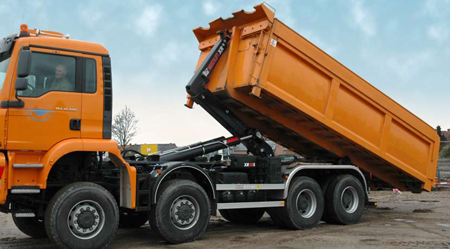 Multilift hooklift systems are popularly used for landscaping, recycling and construction applications in Canada. They are also the preferred choice of industries the world over. Recently, the Bath & North East Somerset Council took delivery of seven Multilift hooklift vehicles from Londonderry Garage, a specialist equipment supplier. Londonderry Garage provides specialist equipment from top brands like Multilift, HIAB and Moffett.
The council uses the Multilifts to transport domestic waste to its Calne, Dimmer and Avonmouth landfill sites. They also transfer recyclable waste to processing depots. Waste operations manager Mark Hambly had a few words of appreciation for the units. He said that the hooklift system is just right for the job, and the operators are happy with the easy-to-use automatic sheeting system.
Simplicity is one of the distinguishing features of the Multilift Hooklift. Its advanced control and hydraulic systems enable easy one-person, in-cab operation. Multilift models are designed to assist operators maximize the utilization of their fleets. They deliver high performance and eliminate idle costs associated with vehicles that are not suitable for certain runs.
Multilift models boast lightweight construction with tipping cylinders, allowing better stability, more payload and longer equipment life. Large, sealed and durable shafts ensure that Multilift systems require minimum service, thus contributing to cost efficiency. The hooklifts in Multilift's range all feature modern ergonomic design, high precision and excellent durability. They incorporate innovative and thoughtful design to target a number of efficiencies on different levels. For instance, the XR 30 hooklift adds friction-relief features for smoother and quieter operation, whilst also enhancing its life span.