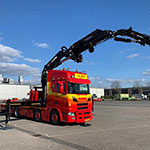 IQ.1188: HIGH-SPEED CRANE, MEET SPACE-AGE CONTROL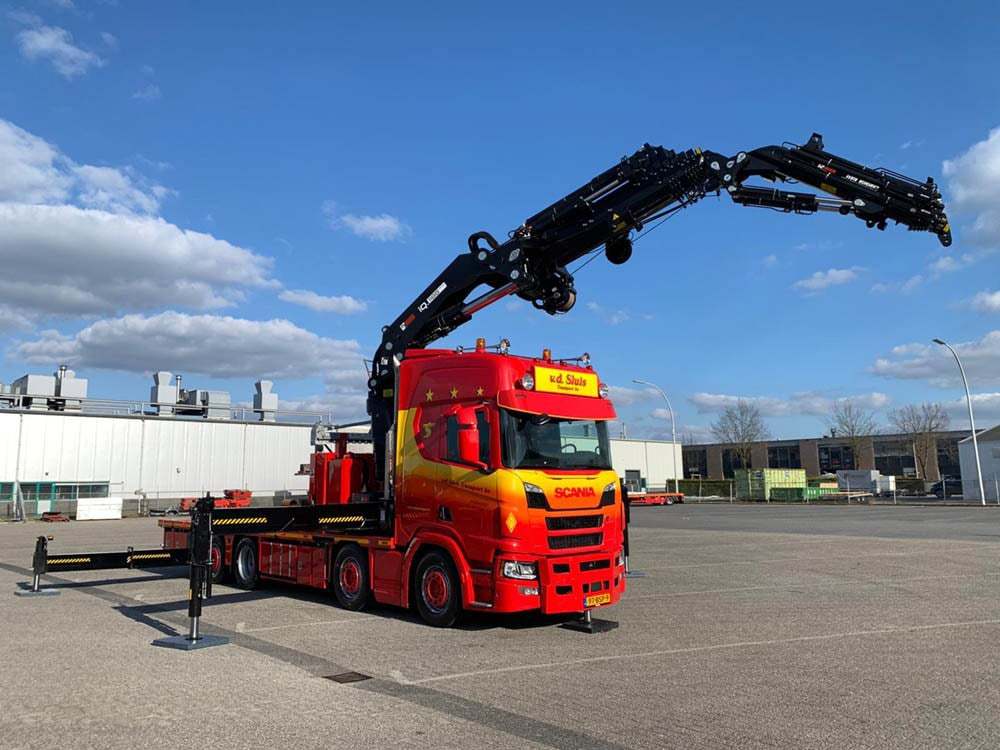 "Beam me up, Scotty," and lift the heaviest load possible in its weight class from a 4-axle truck and deliver it precisely with great speed.
"Impossible!" you say. Not with the new HIAB iQ.1188 HiPRO truck crane. It's a next-generation, next-level, space-age marvel. Let's get down to the detail.
For the HIAB iQ.1188 HiPRO articulating crane, up means way up. It maximizes performance to 40m (131.24 ft.). And heavy means really heavy – thirty tonnes. You might wonder how that is possible on a 4-axle truck and how you can get performance, precision and safety at high speeds with those specs. Now that's where the generation, next-level space-age stuff, comes in.
Next-Generation
The unique design of the iQ.1188 is next-generation (and very cool-looking). Its patent-pending new V12-Power shape is central to it being a very light crane with heavy-duty performance capabilities and highly compact for additionally available weight allowance. It also makes it possible to be installed on a smaller 4-axle truck for greater flexibility, fuel, and cost savings. Its ten extensions go to great lengths to precisely deliver almost anything. Or you can go for nine extensions plus a V12-Power-shaped 155Q-6 jib with 'up-and-over' capabilities with just the right weight and load capacity balance.
Next-Level
Next-level (and futuristic) best describes the iQ.1188 HiPRO's new CD4 remote control system. What makes it so unique? More information on three large colour displays, vibrational (haptic) feedback, and long-lasting battery life. Now the exciting stuff! The crane automatically senses the operator's location and ensures that stabilizer legs do not extend until fully visible with Confirm View. They simulate stabilization in various positions to advance-plan lifts with the CD4 Dynamic Load Charts (DLC-S) feature. Multiple operators can personalize settings like speed and crane reaction and store them in memory, so there is no time wasted at startup. And both operators and fleet managers will love these time-and-money-saving features.
Space-Age
SPACEevo is the HIAB iQ.1188 HiPRO's evolutionary new space-age control system. It's open-platform, modular, and gives a whole new meaning to flexibility and future-proofing. Operators get continuous up-to-the-minute crane updates – a plus that extends crane life and increases resale value. It also simplifies operations so less experienced operators can handle more complex jobs safely and accurately.
Evolutionary also implies a lot of very advanced high-tech functions that go beyond precision to give you more power while working faster, safer, and with greater power. The iQ.1188 HiPRO truck-mounted crane has a galaxy of them. Besides the crane design and CD4 features, faster comes from Semi-automatic Folding (SAF), which lets you safely fold and unfold the crane with a single lever. Safer comes when unintentional operator movements are less of a concern for the load, equipment, operator or surroundings, thanks to the iQ.1188's Vertical Load Stability System (LSS-V). And Automatic Duty Control (ADC) lets operators safely perform lifts that would otherwise exceed capacity. And power? When you reach capacity but need an extra 10 percent boost – you have it without stoppage or slowdown. It just happens with Automatic Speed Control (ASC). Variable Stability Logic Plus (VSL) gives you more lift capacity right from the start. And the iQ.1188 is also powered by a dual-core processor, sensors, actuators and a new harness that increases reliability and confidence to tackle the toughest jobs.
And it would only be right to talk about space-age and future-proof without discussing durability, reliability and sustainability. The ruggedly constructed HIAB iQ.1188 HiPRO is protected by a nano-tech coating for long-lasting paint protection, has a variable pump, an Automatic Dumping Oil (ADO) system, and an optional cyclone tank to further reduce oil use, weight, space and running costs. It's connectivity-ready. And it's a HIAB. It carries the reliability and expertise of Canada's continuously #1-selling truck-mounted crane brand and Atlas Polar's national sales and service network.