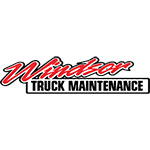 DEALER BLOG: WINDSOR TRUCK MAINTENANCE

Our dealers are some of the most interesting people.
We respect, admire and genuinely like all our Atlas Polar dealers, many of whom have relationships with us you can count in decades, not just years. But no matter how long we have been talking and working together, sharing lunches or getting together for corporate events, there is always something new to learn. Windsor Truck Maintenance, our HIAB service dealer for Windsor, Essex and the surrounding area, is one of those.
Like many of our dealers, Brian Mentley grew up around trucks and equipment. People that would later become his customers would walk past their house in Windsor to see 12- or 13-year-old Brian tinkering in his dad's garage, fixing lawnmowers and other small equipment.
He learned a lot by taking things apart and putting them back together, and by 16, he had his first mechanical job working at Russell Towing, where he learned a lot of skills, including doing things the right way the first time, "how to get yourself back" from where your efforts take you, how to talk to customers and the importance of putting them first.
Nine years in, Brian was ready to grow and wasn't interested in working for 'the Big Three.' He noted the success of other independents and opened Windsor Truck Maintenance in 1992, where his ability to work with all kinds of equipment drew customers. Less than a year later, one of those customers drove in with a HIAB crane truck package. They left happy, discussed a regional service gap and urged him to talk with Atlas Polar about becoming an authorized dealer.
From a business perspective, the rest is history. Windsor Truck Maintenance has been a strong and steady partner for Atlas Polar, doing a great job and doing their best for our HIAB articulating crane, Moffett truck-mounted forklift and Multilift hooklift, and Cleasby and Mixveyor conveyor customers. That first HIAB customer returned with his truck, and the equipment customers have continued to feed the truck side of Windsor Truck's business. In 2020 they expanded into a sparkling new 10,200 sf., nine-bay facility to manage the volume and growth.
But we did promise 'interesting,' bringing us back to Brian's tinkering that goes beyond heavy equipment. In 2004, that took the form of a hand-bent, bright yellow iron Volkswagen that, two years later, hit the road on a cross-Canada tour to raise money for breast cancer. That was followed by a trek to Key West, Florida and a five-part filmed adventure along Route 66.
Next stop for the yellow Ladybug? Europe. Next up for Brian Mentley? Continue to mentor his apprentices and Windsor Truck Maintenance family to be their best, treat their customers well and respectfully, and care about every detail. To eventually pass the company on to his employees where they can continue that tradition for our Atlas Polar customers.