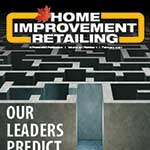 INDUSTRY LEADERS PREDICT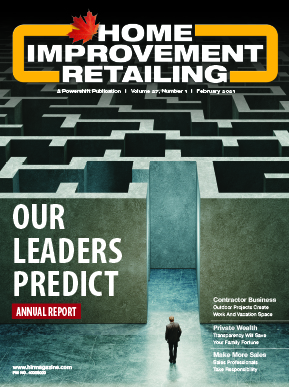 Home Improvement Retailing Magazine is the go-to publication for the building supply industry at large – equipment, retailers, dealers, distributors, contractors, building products and materials, manufacturing, merchandising and fixturing, sales professionals to point-of-sale. Each year, it features a state-of-the-industry report with predictions from key industry leaders on the year to come.
To say that this past year has been unprecedented does not begin to convey the impact that the pandemic has had around the globe. A bombarded economy, blocked or impeded supply chains and in-store challenges, but our industries survive, and in some cases, thrive. A dozen of the country's most influential industry leaders tell you how they've managed their businesses in 2020 and their predictions for success in 2021.
Gain insights from Paul Williams of Torbsa, Rob Wilbrink of BMF, Bernie Owens of Timber Mart, Amar Doman of Canwel Building Materials, Russ Permann of Taiga Building Products, Ken Jenkins of Castle Building Centres, Eric Palmer of Sexton Group, Kevin Macnab of Home Hardware, Ernie Couillard of Regal Ideas, Paul Crawford of King Marketing and Boyden Moore of Orgill Canada. And our own Bob Parr, President of Atlas Polar Company Ltd., takes the first turn to speak in the 2021 Annual Report: 'Our Leaders Predict'.
It all makes for fascinating reading and one common conclusion: No one knows for sure what the future holds. But many home improvement-related businesses will continue to find innovative paths to success in the 'new normal,' and adaptability and preparedness will be essential.
Read the article here and let us know your thoughts and ideas.