HIAB XS 622 Featured in HIAB Method Magazine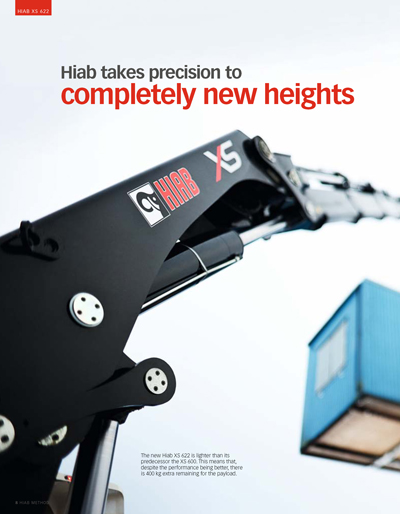 The HIAB XS 622 truck crane is front and centre in the latest issue of HIAB Method magazine.
The cover story on the crane focuses on the great features that we outlined last month in a blog post about the XS 622: improved, smoother movement thanks to redesigned full sequence cylinders; new side supports on each boom extension to stabilize lateral movements; new couplings, new seals and optimised piping diameters to reduce the risk of leakage and ensure a longer service life; and exceptional precision and performance.
The HIAB XS 622 is also, despite its robustness, a light crane: "A major difference in the HIAB XS 622 compared to its predecessors is the fact the new generation of HIAB cranes in this segment is slimmer and lighter. They are compact and low and can also be installed on 3-axle vehicles."
Another article talks about how one business in Stockholm is using the XS 622 truck mounted crane. ComEast Logistik AB specializes in transporting boats and other fragile items. The company uses the XS 622 and its owner says of the crane: "Despite the capacity, it feels like driving a small crane and is very sleek. Having a crane this size on a 3-axle vehicle is no doubt unique."
More information on Atlas Polar's selection of HIAB products is available on our HIAB truck cranes page.