HIAB ToolXChanger Makes It Easy to Change Crane Attachments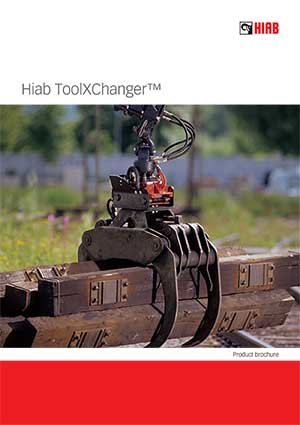 Leave it to the people at HIAB to come up with yet another time-saving innovation.
The new HIAB ToolXChanger makes it possible to switch between all kinds of mechanical and hydraulic tools in just a few seconds. Change between clamshell buckets, sweeper rollers, pallet forks, hooks, brick clamps, augers and timber grapples in no time at all.
This revolutionary technology consists of two parts and works as follows. The upper quick attachment part is connected to the crane with a standard rotator and flange. The lower tool attachment is then attached to whichever tool you are using. The system uses the regular hydraulic circuit on the crane for the locking operation on the quick attachment. A selector-valve on the quick attachment component makes it easy to change between the locking and tool functions.
With the ToolXChanger you no longer have to worry about hands-on connections of greasy hoses either – its automatic couplings connect the hydraulic hoses to the tool for you.
Safety is ensured with a "safe lock" on the tool attachment that prevents the tool from being released unintentionally. Operators can also determine at a glance whether a tool attachment is locked with two clear indicators on the side of the quick attachment.
The quick attachment has a maximum lifting capacity of 4,500 kg, but weighs only 30 kg. The tool attachment weighs 40 kg with the hook and adds only 355 mm of height.
The benefits of the ToolXChanger are many. You will save time, which saves money. You will also increase the profitability of your business by being able to handle tasks you may not have been equipped for before.