HIAB Sea Crane – Versatility and High Performance in Marine Environments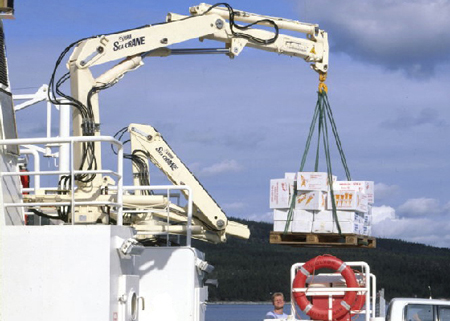 HIAB has been a popular name among businesses with varying lifting requirements for over 60 years. The company, which invented the first hydraulic crane the world had ever seen, is today known for the reliability, quality, and sheer precision of its products.
One of the best line of cranes from HIAB, called the Sea Crane, was developed just after World War II. Since then, for over 60 years, it has been applied in a number of areas. Some of these are in the coast guard, dredgers, icebreakers, trenchers and military ships. A few other industries where the HIAB Sea Cranes have been used are in fire and rescue, oil and gas, adventure tours, army supply ships and commercial fisheries.
The HIAB Sea Crane is preferred in these industries and applications for several reasons. It has a compact design, is versatile and offers a long life. The cranes have been designed to function in even the harshest of conditions, especially in a salt water environment. The chrome plating, double chrome treatment and unique seals that have been provided with the cranes enable it to withstand tough marine conditions.
Some of the features that make the HIAB Sea Crane a top performer is its marine valve (to facilitate easy service), double duty slewing systems (to allow users to operate it at 2 degree trim and 5 degree heel, without any restrictions on lifting capacity) and extension booms that are galvanized.
An oil bath slewing system offers the crane a long life and allows for easy maintenance. With its stainless steel hose, pipes and pipe fittings, the crane remains protected from corrosion. Based on the purpose you need the crane for, hydraulic power packs can also be added to the crane.