HIAB MEWP Finds Increasing Popularity as a Heavy Lifter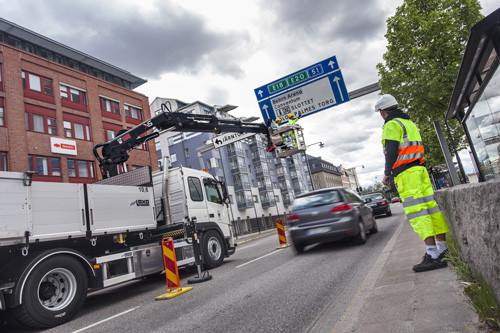 HIAB's Mobile Elevating Work Platform or MEWP has found immense popularity in Swedish cities like Orebro, with local technical departments regularly using the setup for maintenance works in the city. Located a few hours from the Swedish capital Stockholm, the city is showing great interest in HIAB cranes fitted with personnel baskets. Orebro's technical department makes use of a HIAB HiPro as well as the MEWP to carry out tasks in construction sites and city parks.
Apart from setting up signs, the city makes use of the MEWP for a variety of other jobs as it provides safety and flexibility. When attached to HIAB XS cranes, the Mobile Elevating Work Platform provides an outreach of up to 20 meters, allowing workers to carry out maintenance jobs at such heights. Through constant innovation, the MEWP setup can now be used to carry out functions like installing power lines, glass windows and streetlights.
The crane and the personnel basket from HIAB are compliant with the safety standards established by EN 12999 and EN 280. The HIAB HiPro continues functioning like a regular crane and when in MEWP mode, its features are slightly adjusted for safety and functionality. When the personnel basket is attached, the maximum vertical speed of the crane is reduced according to the recommended standards of the EN 280 i.e. 0.4 meters/second.
HIAB's design and innovation used in the MEWP is centered on safety. The crane is designed to level the basket at all times while providing extra protection with external safety rails, multiple speed controls, emergency buttons, back-up batteries and chargers.